Freebie: Marketing Handbook from America's Top Copywriter 
Here's a great opportunity to get a free, 140-page marketing handbook from the guy known as "America's Top Copywriter."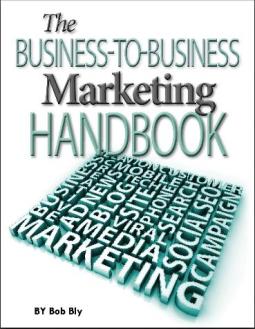 Bob Bly, freelance copywriter and internet marketing strategist, has 3 decades of experience in business-to-business, high-tech, and direct marketing. With 70+ books in print and a stable of more than 100 top-name clients, he knows a thing or two about marketing strategy and persuasive writing.
His B2B Marketing Handbook (a free PDF download) outlines handy and helpful ways to communicate the value of your service, product, or cause – especially as you divide your budget and time among new communications vehicles. (Go to this link, click on "Home," and scroll down to find it.)
And although the handbook targets business-to-business (B2B) efforts, most of the strategies are transferable to business-to-consumer communications, too. In Bob's customary practical, step-by-step approach, the handbook tackles topics like:
Key marketing components
Writing optimized copy
Content marketing
Building your opt-in list
Email marketing
Marketing myths
Mobile marketing
And more practical information products

Bob's got a whole additional line of information products that you'll probably find incredibly useful, as I do, about grant writing, email marketing, internet marketing, copywriting for specific niches (like nonprofits, the medical market, and the technical market to name a few), search engine marketing, social networking, speech writing, personal development …
You'll also want to check out his library of low-cost reports (created specifically for small business owners, do-it-yourselfers, and solopreneurs) on topics like successful online marketing, doing your own public relations, marketing secrets, writing for the web, and more.
The Handbook comes with a free subscription to Bob's monthly e-newsletter on direct marketing, The Direct Response Letter. (You can opt-out at any time.) Check it out now. Go to this link, click on "Home," and scroll down to find it.
More freebies for copywriters and nonprofit leaders

Freebies for your nonprofit ...

Friday Freebie: weekly no-cost resources for copywriters and nonprofit leaders ...

Free nonprofit website checklist ...

Free webinars for your nonprofit ...

Free online writing courses: Netwriting ...

Free e-book: Press Releases Made Easy ...
Free: 9 ways to write better email subject lines ...

Freebie: Top 10 Email Marketing Tips ...
Free grants listing: celebrity grants data base ...
Can you get good copywriting for free?

Return from Freebie: Marketing Handbook from America's Top Copywriter
to Nonprofit Copywriter home

As an Amazon Associate I earn from qualifying purchases.

Powered by SBI! Learn more here.