Friday Freebie: 9 Ways to Write Better Email Subject Lines and More 
Want to know how to write better email subject lines, headlines, tweets, and Facebook updates?
Download this free report: Big Impact in Small Places. It will help. We guarantee it!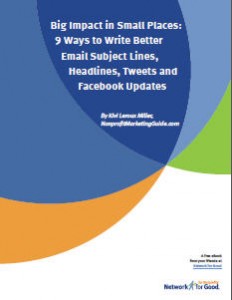 Big impact with a little freebie

Kivi Leroux Miller and the team at Network for Good have done it again with this jam-packed, 18-page guide chock-full of practical information, all wrapped up in a visually-attractive, easy-to-navigate package.
It's part e-book, part checklist, part infographic, and 100% great information about writing concisely, but with compelling content, when you don't have much space to do so.
As in when you write article headlines, tweets, Facebook posts, and email subject lines.
Small places need "sticky content"

The ability to write tight has never been more essential than now, expecially since social media is an integral part of a nonprofit's marketing mix.
But it's not enough to be concise. These days, you need to also grab a reader's attention in such a way so they will want more. That approach is called "sticky content."
This freebie gives you 9 practical ways to make your content sticky. It unpacks helpful how-to's like:
How to write short
What to highlight
What trigger words work
How personal to be

Best ways to use visuals
How to be clever (or not)
How to be direct, not pushy
How to know which punctuation to use

How and what to test to know if you're being effective

And we didn't want to forget to mention one other little detail. The guide is free!
Learn more and get your free copy of Big Impact in Small Places: 9 Ways to Write Better Email Subject Lines, Headlines, Tweets and Facebook Updates.
More freebies for copywriters and nonprofits

Freebies for nonprofits: copywriting courses, downloads, webinars ...

Friday Freebies: weekly no-cost resources for copywriters and nonprofit leaders ...

Free e-book: Press Releases Made Easy ...

Free webinars for your nonprofit ...

Freebie: Marketing Grader shows how you're doing online ...

Free Marketing Handbook from "America's Top Copywriter" ...

Freebie: Tweriod shows you the best time to tweet ...
Free online writing courses: netwriting ...

Freebie: Top 10 Email Marketing Tips ...

Return from Friday Freebie: 9 Ways to Write Better Email Subject Lines to
Nonprofit Copywriter home

Powered by SBI! Learn more here.