Free Online Writing Courses Netwriting: Copywriting for the Internet
Check out one of the most useful, available free online writing courses Netwriting, also called The Netwriting Masters Course.
Writing well for the internet is an incredibly valuable skill for any online marketer, including a nonprofit leader or small business owner.
But did you know that 98% of small business websites are not effective at pulling in funds or sales online?
OUCH.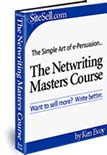 What makes this course so special

The Netwriting Masters Course explains the fundamental philosophy behind successful web copywriting: people go online for information. It shows you how give it to them. Its uniqueness is that it teaches you principles about writing effective web pages.
And it makes sense.
Writing for the web, by definition, includes copy for websites, email campaigns, and social media posts. This course is targeted. It focuses squarely on writing websites … specifically, websites that "get the click." Effective netwriting, says course author Ken Evoy, is writing for the web that generates income.
Ken should know. He is president of Sitesell.com, a leader in net marketing for non-tech-savvy small businesses.
Oh, and one more thing that makes this online course unique. In addition to the excellent content, did we mention that The Netwriting Masters Course is free?
What this course teaches you

The 49-page course is jam-packed with practical information, but not about grammar. Rather, it outlines the step-by-step process that pulls readers to your site and keeps them there.  It covers topics like:
How Search Engines Work
How Your Content Can Become Valuable to Readers
How to Know the Difference Between Pre-Selling and Selling
How to Choose Your Most-Wanted Response
How to Know Your Ideal Reader
How to Identify Features and Benefits
How to Identify Your USP
How to Keep Your Visitor at Your Site
How Your Site Can Develop Long-Term Reader Relationships
Details to know about this course

It's self-paced. Work at your own speed, whether it's 15 minutes at a time or all in one or two sittings.
It's not a "get-rich-quick" scheme. Be prepared to read the course several times. You may want to print it out, take notes on it, and digest one section at a time. Plan to start writing for your site and then use the course to help you re-write pages before publishing them on the web.
It works. And the price is right.
Find out more about The Netwriting Masters Course here.

More freebies for your nonprofit

Freebies for nonprofits: copywriting courses, downloads, webinars ...

Friday Freebie: weekly no-cost resources for writers and nonprofits ...

Free e-book: Press Releases Made Easy ...
Free webinars for your nonprofit ...

Freebie: Marketing Grader shows how you're doing online ...
Freebie: Top 10 Email Marketing Tips ...
Freebie: 9 ways to write better email subject lines ...
Free Marketing Handbook from "America's Top Copywriter" ...
Can you get good copywriting for free?

Free grants listing: celebrity grants data base ...

Return from Free Online Writing Courses Netwriting
to Nonprofit Copywriter home

Content by award-winning content writer and author Kathy Widenhouse, who specializes in writing for nonprofits and faith-based organizations.
As an Amazon Associate I earn from qualifying purchases.

Powered by SBI! Learn more here.