Freebie: Top 10 Email Marketing Tips

Check out these quick and simple email marketing tips that help you target your resources and get the most for your development dollars. The tips are wrapped up in a free, easy-to-read little ebook titled 10 Tips for Successful Email Marketing, designed to help you set good priorities when constructing your email campaigns from marketing automation software firm Marketo.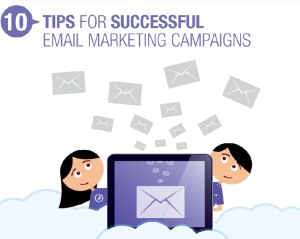 Sure, email marketing campaigns are essential in nonprofit communications. But like any other social media strategy, email campaigns can eat up time. How should you segment your email list? How should you test campaigns? What audience should receive which kind of email campaign? You want to make sure you get the best return on your investment.
Find out ...

Which data to gather and which metrics to measure (beyond just click-through rates)
How to improve on standard list segmentation
How to streamline your email process to save time and get the best return
The best ways to incorporate social media into your email marketing
And we didn't want to forget to mention one other little detail. It's free!
Check out a copy of Top 10 Email Marketing Tips.

More freebies for copywriters and nonprofit leaders

Free online writing courses: netwriting ...

Free webinars for your nonprofit ...

Freebie: 9 ways to write better email subject lines ...

Freebie: Marketing Grader shows how you're doing online ...

Free Marketing Handbook from "America's Top Copywriter" ...

Free e-book: Press Releases Made Easy ...
Freebie: Tweriod shows you the best time to tweet ...
Friday Freebie: weekly no-cost resources for writers and nonprofits ...

Freebies for nonprofits: copywriting courses, downloads, webinars ...

Return from Freebie: Top 10 Email Marketing Tips to Nonprofit Copywriter home

As an Amazon Associate I earn from qualifying purchases.

Powered by SBI! Learn more here.