Images for Newsletters: Use In-House Photos for Your Nonprofit

Where are the best places get images for newsletters from your nonprofit?
You. Your clients. Your projects. Your work.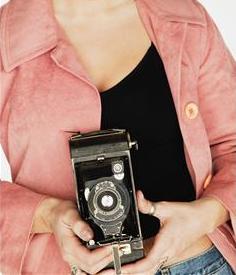 Take a reality check for yourself. Which would impact you most: a touched-up image of a child holding a neat, clipped lamb… or a gritty photo of a young boy and his strong though shaggy flock of goats set against the backdrop of a dirt-poor village?  Don't worry if your images "not perfect." Readers want the real deal. Where at all possible, give it to them.
Sure, stock images work well if you have nothing else to use, especially when they're free. But if at all possible, take in-house images of your beneficiaries and your wonderful work to use them in your newsletters, e-zines, web pages, social media sites, and other promotions.
A picture is worth more than 1,000 words

Your nonprofit's personal images for newsletters and other media are a powerful tool. Here is why.
In-house images are personal
Your readers want to hear stories about how their support is having impact. In-house photos reveal a client's frayed trousers or a family's self-sustaining garden plot. When you show them an image or photo that explains the story further, you give them the gift of "being there" and experiencing life change right along with you.
In-house images build internal enthusiasm
Many clients get excited seeing themselves online or in print. They earn notoriety among other beneficiaries and within your nonprofit community: "Did you see the picture of Anna on the computer?" Featured clients also develop a heightened sense of responsibility when they understand their story is being shared with donors.
In-house images are convenient
Snap them and load them up right away to your social media sites. Use your phone if you have to! When you take photos yourself, you won't have to wait for a photographer to deliver them.
Top tips for taking in-house photos for your nonprofit
You don't need to be a professional photographer in order to take creative, quality photos to use to supplement the copy for your nonprofit. Use these tricks.
Take photos of people and faces
This is especially important if you're a training ministry or if you lead classes. Readers don't want to see desks, blackboards, tables, or students taking notes. They want to see people's faces. Ask beneficiaries to move close together, look at the camera, and smile.
Take action photos
Let children in the orphanage school hold up their art work. Show village residents getting water at the new well with their buckets. Snap a shot of youth worshipping. An action image of your beneficiaries shows your partners how their support is impacting lives.
Take photos of individuals
A close up of a new mom and her healthy baby, accompanying their story, lets your readers connect personally with those they support.
Some extra tips for taking effective images for newsletters
Obtain a release from beneficiaries in photos. Or make your life even easier by including a permission clause in a client agreement at the point at which your initiate services.
Respect confidentiality. If a beneficiary needs or asks for anonymity, honor that request.
Is a picture worth 1,000 words? No.
It's worth much more than that.
More on writing nonprofit newsletters and e-zines

Freebie: Quozio lets you create graphics in 5 minutes or less ...
10 commandments for nonprofit newsletters ...

What's a listicle and how do I write one that sticks?

29 kinds of newsletter articles you can write ...
Top newsletter article tips: how to make sure your articles get read ...

What are ezines and do I need to publish one?

Top tip on writing a newsletter: feature a heartfelt feature story ...

How nonprofit ezines build exposure ...

Your nonprofit ezine: why should readers subscribe?

What to write in your welcome email to new subscribers ...
Return from Images for Newsletters: Use Real Photos for Your Nonprofit to Nonprofit Copywriter home

Your first paragraph ...
Powered by SBI! Learn more here.