Book Writing Help Step 2

Identify Your Readers
Ready for book writing help step 2?
Here's the truth: a book is just a series of small bits of writing, strung together. To write a book, simply break down the whole into smaller parts. Then complete each small part, one at a time.
The first step is identifying the problem your book will solve. After that …
Book Writing Help Step 2:
Identify Your Readers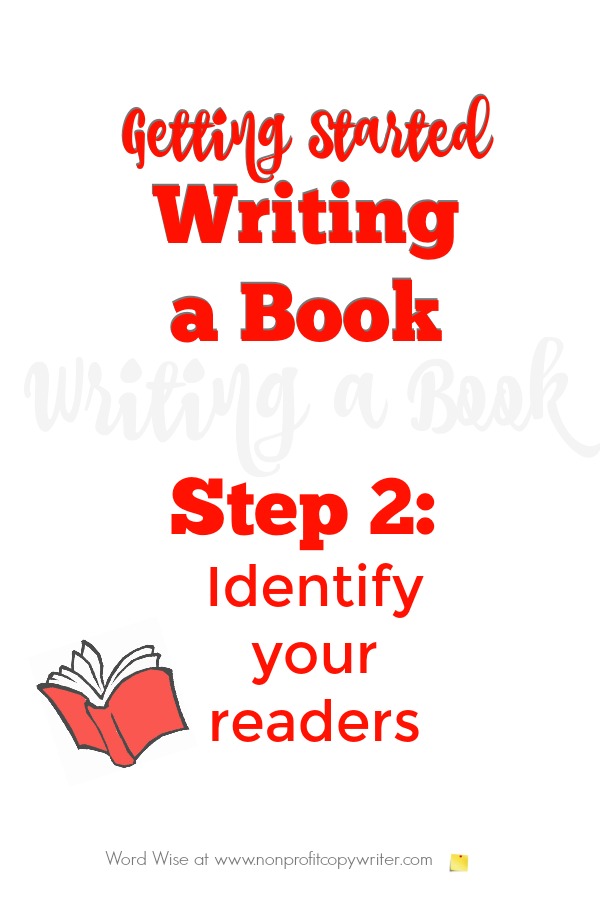 Who will read your book? Answer this question to identify your book's target audience. 
And why do you need to do this?
Because you speak differently to a 10-year-old girl than you do when you talk with a 40-something businessman or when you're chatting with a recent college grad. Just like a conversation, a successful book speaks to its primary audience in a unique way. You want your book to connect with your readers and be relevant to them.
When you know your target audience, then you can direct your content to them. You use language and style that is appropriate for those readers. Knowing your audience, thinking of them as you write, and directing your content in a way that they can understand and receive it – all these factors are keys to a successful book.
The easiest way to identify your readers clearly in your mind is to create a reader profile. 
How to Create a Reader Profile
Start by picturing your ideal reader – the kind of person you imagine reading your book. Think of someone you know who fits your reader profile. Consider gender, age, worldview, experience, hobbies, interests, income, social position, purpose, and any other details that may be relevant. The more specific you can be, the better. 
You can add or subtract elements from the reader profile to fit the uniqueness of your book. For instance, perhaps you're writing a children's book that is suitable for both genders. In that case, your sentence will not specify boy or girl. Or maybe you're writing a book targeting females who want to pursue a second career as personal chefs; in that case, readers' other hobbies don't matter. Or, your profile may contain more than one group of readers – mothers and daughters, for instance. Include that piece of information as you brainstorm. 
Use all the descriptive information to create a reader profile. 
The more specific you can be at this point, the easier it will be to write your book later. You reader profile is extremely valuable as you plan your book. It will allow you to position your book to a unique audience.
Take a Step
Fill in the blanks to complete your reader profile sentence.
My book is for ...
Age group ________
Gender__________
Worldview ______________
Experience/hobbies/interests ___________
Income/social position ________________
readers.
---
More about Writing a Book

Getting started writing a book ...
How to Use a Personalized Book Writing Plan to Get Your Book Done ...

5 Places to Find Book Ideas ...

Test Your Book Idea with These 4 Questions ...

Top Tip for Selling Your Book ...
Tips on Writing a Book (Before You Get Started Writing) ...

How to Write a Book Summary that Sells Your Book ...
Book Writing Help Step 1: Identify the problem your book will solve ...
Book Writing Help Step 3: Find your book's unique niche ...

Book Writing Help Step 4: Write a Summary Sentence ...

Book Writing Help Step 5: Choose a Publishing Platform ...

Book Writing Help Step 6: Write a Book Outline and Chapter Plan ...

Book Writing Help Step 7: Create a Writing Plan ...

6 Tips for Writing Good Copy for Your Book Jacket ...

Writing eBooks: Frequently Asked Questions ...

More Book Writing Tips on our Pinterest board ...
Return from Book Writing Help Step 2 to Nonprofit Copywriter home
Content by award-winning content writer and author Kathy Widenhouse, who specializes in writing for nonprofits and faith-based organizations.
As an Amazon Associate I earn from qualifying purchases.

Powered by SBI! Learn more here.