The Comparative:
Great, Greater, Greatest Give Clarity

An online devotional for writers
A Word From The Word
For the Lord is a great God, a great King above all gods. (Psalm 95:3, NLT)

A Word For Writers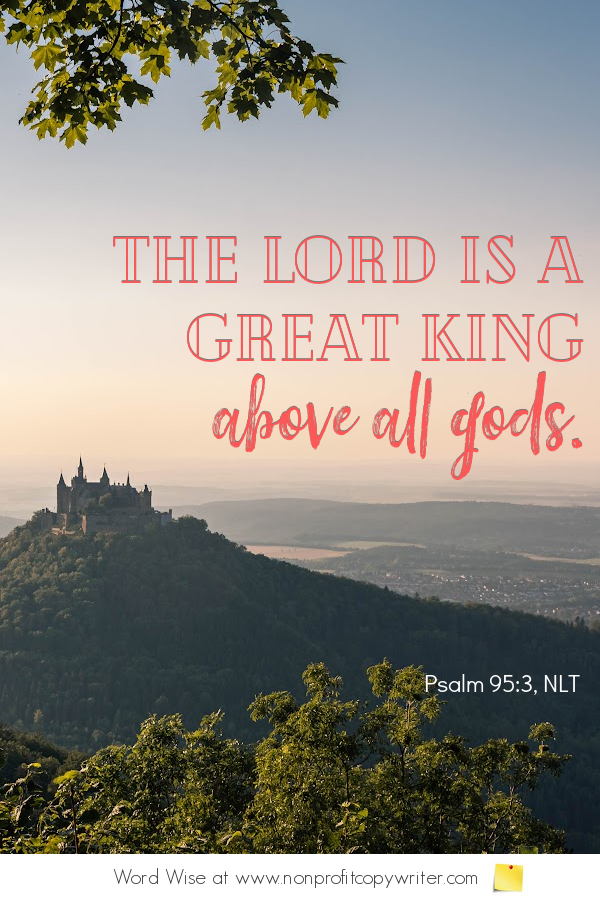 "The first square is bigger than the second square." Bigger is a comparative – a writing device used to compare and contrast two items.
By using comparatives like big, bigger, and biggest in your content, you help readers draw on pattern recognition skills they learned in childhood – specifically, seriation. Seriation is the ability to arrange items in logical order according to quantity, such as weight or size or age.
Humans find it easier to visualize quantified objects over abstract principles. That's where comparatives are especially helpful.  When you create a comparison for readers, you help their brains classify an idea. It's now in relationship to another idea as a point of reference.
The Bible is filled with comparatives:
Great: "For the Lord is a great God, a great King above all gods" (Psalm 95:3, NLT). David compared God and other gods' kingly leadership.
Greater: "I know now that the Lord is greater than all other gods, because he rescued his people from the oppression of the proud Egyptians" (Exodus 18:11, NLT). Jethro compared God and other gods' saving ability in the face of a powerful enemy.
Greatest: "Your God is the greatest of gods" (Daniel 2:47, NLT). King Nebuchadnezzar compared God and other gods' ability to reveal truth when Daniel interpreted dreams.
Comparatives in scripture give us more clarity about God's power and character. Your comparatives can help give your readers clarity about intangible concepts, too.
A Wise Word
Comparatives provide clarity about abstract truths.

A Word To Pray
Heavenly Father,
In Your Word, You use the concrete and tangible to help me understand You better. Show me how to write more clearly. Show me where to use comparatives to quantify a point for my readers.
In Jesus's name, Amen.
---
More Devotionals for Writers
The Mixed Metaphor: Confusing or Memorable?

The Comparison: Give Your Reader a Point of Reference ...

The Superlative: Don't Resort to Them As an Excuse  ...
The Keywords: Use Them Spotlight Your Content Message. God Does!
The Synonym: A Clever Way to Repeat Yourself and Write Persuasively ...
The Power Word: This One Is Simple, But It Moves Readers to Act ...
The Trigger Word: Special Content Writing Keywords Move Us to Act...
Extra Words: How to Cut Them Out (and Why You Should) ...
Wise Words: Devotionals for Writers ...
More Devotionals for Writers on our Pinterest board ...
Join other Christian Writers in the Writing for Ministries Community ...
Free Mini-Course: Getting Started Writing Devotionals ...
Get more devotionals for writers delivered to your inbox each week:

Return from The Comparative to Nonprofit Copywriter home
Content by award-winning content writer and author Kathy Widenhouse, who specializes in writing for nonprofits and faith-based organizations.
As an Amazon Associate I earn from qualifying purchases.

Powered by SBI! Learn more here.