Quick Tip: Use a Timer to Get Started Writing Strong Each Day 
By Kathy Widenhouse, award-winning nonprofit content writer, website publisher, and author of 9 books.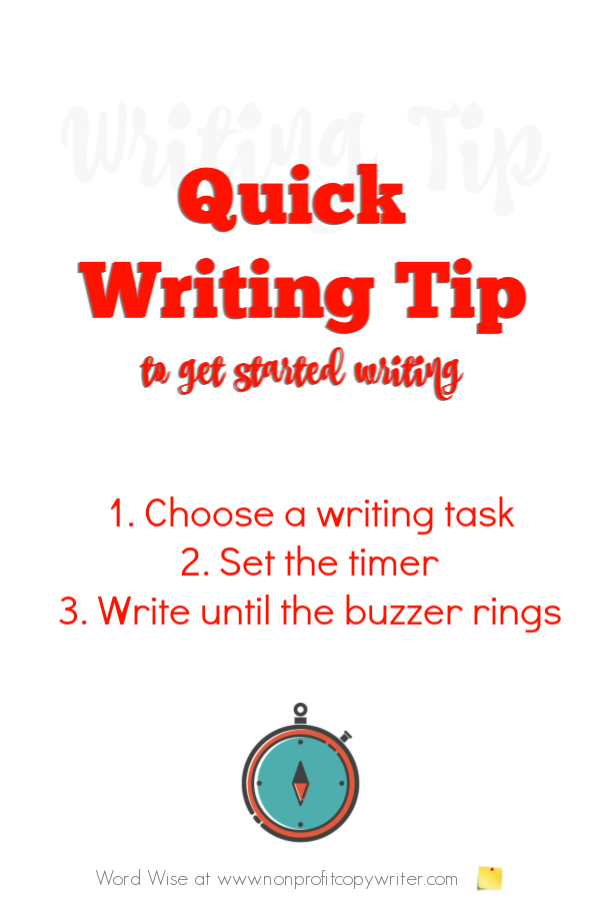 Do you struggle to get started writing each day? 

Here's what may happen …
You avoid your laptop, but once you finally plant your fanny in the chair and place your hands on the keyboard, you don't tackle a writing project. Instead, you open your email application. Then you browse news headlines, post on your writing social media site, and take a quick look at your writing groups. "Research," you tell yourself. Anywhere from ten minutes to an hour goes by, but you have not written one word.
Sound familiar?
Momentum: it can be a problem whether you write full time or you are just starting out and squeezing in bits and pieces of time when you're not at your day job.
Here's a quick tip that helps me get started writing and continue strong each day. I hope it helps you, too.
---
Use this worksheet to create your own personalized content calendar and get more writing done.
---
Quick Tip: Set Your Timer to Get Started Writing

I use this simple approach:
I give myself an assignment.
I set my timer for 30 minutes.
I write until the timer rings.
I do nothing else for the next 30 minutes. I do not check my email or answer the phone. I do not throw a load of laundry into the dryer or stir the pot of veggie soup on the stove. I simply work at my self-imposed assignment until the buzzer rings.
How the Timer Tip Gets Momentum Going
The Timer Tip doesn't work very well if I don't have a plan – that is, if I don't give myself task to complete.
Without a plan, then the timer creates frustration and even anxiety. I spend time worried about what to write rather than actually writing. 
The trick is to keep a running list of short "homework" writing tasks, preferably outlined each evening after I'm finished writing for the day. For instance, I can assign myself the task of outlining an article. I can write a section of an outline. I can edit a blog post. 
You get the idea.
With a task list and a timer, I can get started writing strong right away in the morning. Once I complete a task, I can move on to the next one on my list. And I can continue to add to my task list each day to snowball the process.
How the Timer Tip Helps Me Write More

The Timer Tip helps me get writing by hitting the ground running. Mentally I'm able to tell myself, "Hey, I only need to do this for thirty minutes." 
What usually happens when the buzzer rings is that I get up and stretch. Then I sit down, set the timer again, and write for another 30 minutes.
This approach helped me a good deal when I was just getting started writing and I still had a full-time job. Busy as I was, I could still carve out 30 minutes to write. Even after I transitioned completely to freelancing, the thought of writing for an hours-long sitting be overwhelming, Thirty minutes seems manageable. It's the same length as a sitcom, right?
Another tip: if 30 minutes seems like a too-tidy number, choose a different one. I've heard writers work productively in 15 minute segments or 33-minute increments or clock in at 55 minutes, just shy of an hour. Some folks swear by the now-famous Pomodoro Technique – the brainchild of Francesco Cirillo who developed a way to work in intervals. He set a tomato-shaped kitchen time for 25 minutes at a time followed by a 5-minute break as a way to be more productive.
The amount of time you choose is up to you. The more important choice is to give yourself a task to complete before you set the timer and then write.
The idea behind the Timer Tip, for me, is that I am able to be more focused as I work which helps me get more done in less time.
An Exception to the Hard-and-Fast Rule
If you have small children at home, be prepared to be interrupted. But try to preempt this problem by using your 30-Minute-Writing Time to help them learn to play independently. You may need to start with 10 or 15 minutes at first and then extend it as your children build their independence.

---
More Tips for The Writing Life
Don't Finish Writing – and Get More Done ...
A Simple Content Calendar Template for Bloggers and Solopreneurs ...

My Favorite Writing Productivity Hack: It's Not about Writing At All ...

Beat Writer's Block When You Eat the Frog First ...

Do Writers Get Imposter Syndrome? Here's What You Can Do About It ...

Find Time to Write by Busting These 3 Myths ...

Beat Writer's Procrastination with a Simple Flip ...
The Writing Life: You Can Make a Living With Your Words ...

Manage These 3 Big Distractions When You're Writing At Home ...
Make Writer's Distraction Work For You ...
How to Create a Content Calendar  ...

5 Fun Gifts for Writers: Useful Gadgets for Capturing Ideas on the Go ...

21 Ways To Beat Writer's Block and Jumpstart Your Project ...

Start Your Writing Day With a Quick Win and Get Momentum ...

Avoid Panic: A Practical Way to Estimate Writing Time for a Project ...

How To Write Faster: Use Bursts AND Binges ...

3 Quick Tips for Starting Your Writing Project ...

Pre-Writing: 4 Easy Tips to Make Your Writing Go Faster ...

Quick Tip for Writing Clearly: Put "Only" In Its Right Place ...

Quick Self-Editing Tip: Start a sentence with the subject ...

Quick Tip: Write  better descriptions when you ditch these 2 words ...

Quick Tip to weed out weasel words  ...

Quick Tip: the simplest, best copywriting tip ...

Quick Tip: Passive voice is an easy fix with this writing tip ...

More Quick Writing Tips on our Pinterest board ...

Return from Quick Tip to Get Started Writing Strong Each Day to Nonprofit Copywriter home
As an Amazon Associate I earn from qualifying purchases.

Powered by SBI! Learn more here.