The Data: It's More Than Just Numbers

An online devotional for writers
A Word From The Word
Jesus saw the huge crowd as he stepped from the boat, and he had compassion on them because they were like sheep without a shepherd. So he began teaching them many things. (Mark 6:34, NLT)
A Word For Writers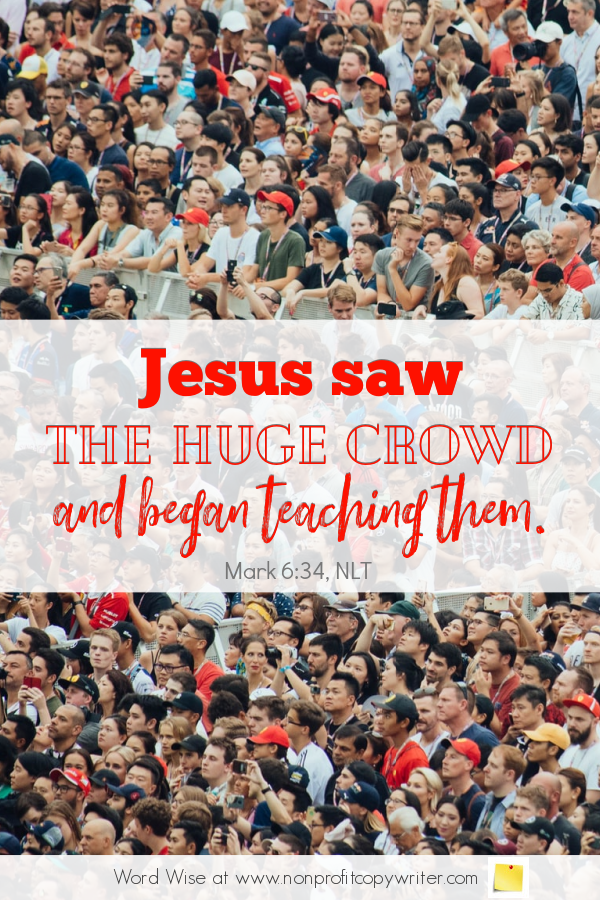 "Jesus loved data." That statement by writer Abby Perry gave me pause. 
But it's true. Data is more than numbers and statistics. It's also facts and information, which Jesus gathered regularly. 
Look at just a few ways He collected different kinds of information and what He did with it.
He studied previous works: Jesus listened to teachers of the law. He took that knowledge and grew in wisdom (Luke 2).
He made observations: Jesus saw a huge crowd and observed that they were lost. He began teaching them (Mark 6).
He asked questions: Jesus asked the lame man, "Do you want to get well?" Then He listened to the man's problem and healed him (John 5).
The data you collect allows you to understand what's going on and make a plan for the next step in your writing. 
Jesus used different methods to gather all kinds of data. Then he used it. So can we.
A Wise Word
Gather a variety of data in a variety of ways to use as you write.

A Word To Pray
Gracious Lord,
Information is plentiful. You've given me many ways to collect it. Help me to do my part to be alert and thorough to get complete data to use as I write.
In Jesus's name, Amen.
---
More Devotionals for Writers
The Case Study: Research in Story Form ...

The Quotation: One Danger To Avoid When Writing Quotes ...

The Citation: Giving Credit Builds Your Credibility ...

The Facts: They're Especially Persuasive When Combined with a Story ...
The Fact Check: Truth Is a Powerful Writing Tool ...
Wise Words: Devotionals for Writers ...
More Devotionals for Writers on our Pinterest board ...
Join other Christian Writers in the Writing for Ministries Community ...
Free Mini-Course: Getting Started Writing Devotionals ...
Get more devotionals for writers delivered to your inbox each week:

Return from The Data to Nonprofit Copywriter home
Content by award-winning content writer and author Kathy Widenhouse, who specializes in writing for nonprofits and faith-based organizations.
As an Amazon Associate I earn from qualifying purchases.

Powered by SBI! Learn more here.