The Cover Letter: Keep the Reader Reading
By Kathy Widenhouse, award-winning nonprofit content writer, website publisher, and author of 9 books. 
An online devotional for writers
A Word From The Word
I am writing to remind you, dear friends, that we should love one another. This is not a new commandment, but one we have had from the beginning. (2 John 5, NLT)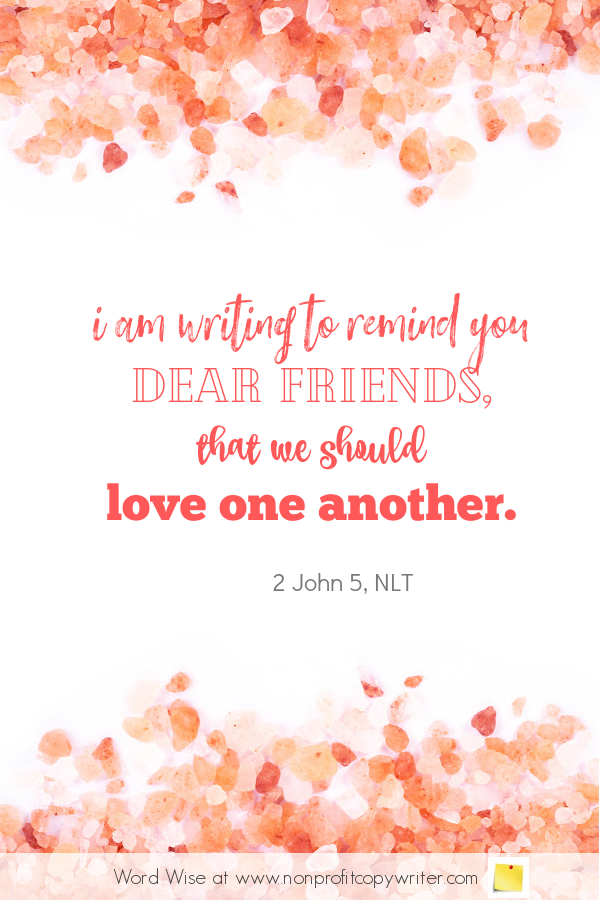 A Word For Writers
A cover letter is a one-page introduction. That's why a cover letter is always accompanied by other content, such as a resume (when it's part of a job application), sales materials, or supporting information.
Such is the case for 2 John.
"This letter is shorter than I John and covers much of the same material," says veteran pastor and author Mike Mazzalongo, founder of Bible teaching platform BibleTalk.tv. "What is interesting is how the letter was used. II John is not a continuation of John's gospel or his first epistle, it is a cover letter that accompanied the epistle and gospel." 
2 John exhibits key characteristics of a cover letter:
The letter is written to a specific person – in this case, "the chosen lady," a member of a church. By addressing a cover letter to an individual, you personalize the content.
The letter emphasizes specific themes that the main content addresses. 2 John touches on the dangers of false teaching that are unpacked more thoroughly in 1 John.
The letter is short. 2 John clocks in with just 13 verses. Rather than a rehash, a good cover letter entices the reader to learn more from the accompanying content.
It's tempting to think of a cover letter as an afterthought. But remember this: a cover letter paves the way for the reader to keep reading.
After all, 2 John became one of the 66 books of the Bible.
A Wise Word
A cover letter entices the reader to keep reading.
A Word To Pray
Heavenly Father,
It's easy to toss off a simple cover letter as an afterthought. But John's letter shows me that I need to write persuasively, regardless of how short or long a project is. Let me use that kind of thoughtful care, no matter how seemingly insignificant a project may seem.
In Jesus's name, Amen.
---
More Devotionals for Writers
The Business Letter: Paul's Persuasive Business Writing Tip ...
The Letter of Introduction: Don't Pitch a Project …
The Query Letter: Submit it 100 times …
The Direct Mail Letter: Basics are Persuasive …
The Rejection Letter: It's an Open Door in Disguise ...
Wise Words: Devotionals for Writers ...
More Devotionals for Writers on our Pinterest board ...
Join other Christian Writers in the Writing for Ministries Community ...
Free Mini-Course: Getting Started Writing Devotionals ...
Full-Length Course: Writing Devotionals That Stick ...
Get more devotionals for writers delivered to your inbox each week:
Return from The Cover Letter to Nonprofit Copywriter home
As an Amazon Associate I earn from qualifying purchases.

Powered by SBI! Learn more here.