The Anchor Client:
Consistent, Quality Work Yields More Work

An online devotional for writers
A Word From The Word
I have received your message, and I will supply all the cedar and cypress timber you need … You can pay me by supplying me with food for my household. (1 Kings 5:8-9, NLT)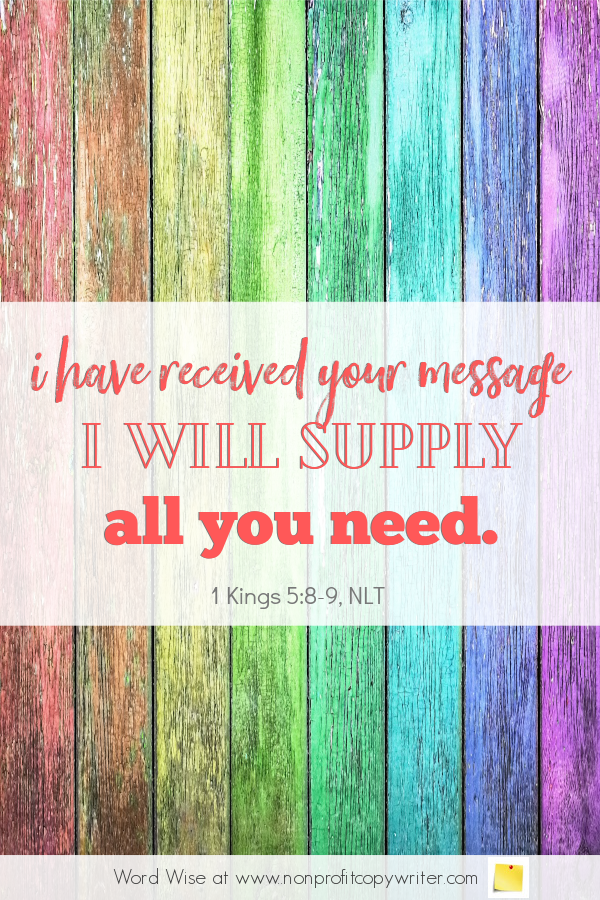 A Word For Writers
Hiram had an anchor client – a customer who provided steady, predictable work.
His anchor client was Solomon, who hired Hiram to provide cedar and cypress to build a temple. Solomon paid Hiram for the timber with wheat and olive oil. The steady work allowed Hiram to feed his people.
This business relationship between Hiram and Solomon continued for 20 years (1 Kings 9:10), until Solomon's building project was completed.
What's interesting is how Hiram acquired his anchor client. 
His connection to Solomon began years earlier. Hiram had cultivated a good relationship with Solomon's father, David. When David built a palace, Hiram provided materials and workers for the project. He developed a reputation for quality work in Israel.
When David passed away, Hiram reached out to Solomon and offered his congratulations on ascending to the throne. Turns out, the timing was ideal. Solomon was ready to proceed with his temple project. He knew Hiram was reliable and did quality work.
How can a freelance writer acquire an anchor client? By consistently producing quality work. And by reaching out to clients and prospects to offer your services. 
Do that and you may just get 20 years of steady work and paychecks.
A Wise Word
Acquire steady client work by consistent, quality work and outreach.

A Word To Pray
Gracious Father,
I want to build a reputation for consistency and quality. Let me produce my best work every day. And allow me to be a dependable provider for my clients and readers.
In Jesus's name, Amen.
---
More Devotionals for Writers
The Ghostwriter: Content Writer for Hire ...
The Assignment: One Leads to Additional Freelance Writing Gigs ...
The Prospect: Does She Know That She Needs a Freelance Copywriter?
The Pitch: Why You're the One to Write the Story ...
The Mobile Office: Paul Worked Remotely, Too ...
The Referral: How Do I Get More Freelance Copywriting Jobs?
Wise Words: More Devotionals for Writers with Word Wise ...
More Devotionals for Writers on our Pinterest board ...
Join other Christian Writers in the Writing for Ministries Community ...
Free Mini-Course: Getting Started Writing Devotionals ...
Get more devotionals for writers delivered to your inbox each week.

Return from The Anchor Client to Nonprofit Copywriter home
Content by award-winning content writer and author Kathy Widenhouse, who specializes in writing for nonprofits and faith-based organizations.
As an Amazon Associate I earn from qualifying purchases.

Powered by SBI! Learn more here.