Write Better. Right Away.
Volume 11, Number 9: Issue #101 ... ISSN: 1933-9690

Welcome, fellow writer!

Every couple of weeks, we'll send you this newsletter packed with practical and useful writing tips to help you learn how to write better and how to write faster, no matter how much or how little writing experience you have.
If You Want to Write a Book …
Will you do me a big favor? Take 30 seconds to complete this quick survey. Let me know your #1 question (or couple of questions) you have about getting started writing a book. Just click here (or the button on the right) to tell me what you want to know most.

Thank you for your feedback!
---
Nonprofit Copywriter is on Pinterest. Join us!
Nonprofit Copywriter
---
FEATURE: Pre-Writing Step 4: Focus on One Idea. Just One.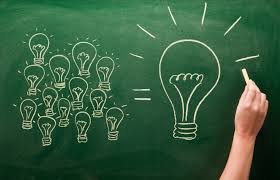 Image: Writtent
What to Write Before You Write, Part 4
Do you want to write faster, clearer, and get more projects done? Pre-writing is the key.
You can complete pre-writing steps in any order: identify your project's goal, choose the channel you'll write for, identify your reader …
And while you're at it, focus on just one idea per piece (per web page, per post, per article, per book chapter, per devotional...
If you cannot summarize your content idea in one sentence, then you won't communicate it well to readers.
Here are some practical tips to help you identify the one thought you want your piece to communicate, no matter what content it contains.
What nugget inspired you to write your piece?
Write out a list of ideas you want to communicate in your piece. Study your list. Do any of these ideas jump out as a summary thought?
What is the result you want to achieve in this piece?
Imagine you have 30 seconds to explain your piece. What would you say?
What is the most important concept you want readers to know after they have read your piece?
Write out your main idea. Save the rest of your ideas for other projects or additional content. Look for more simple writing tips in the next issue of Word Wise.
Read more about pre-writing here. And check out more writing tips on our Writing Tips Pinterest board.
---
Easy Writing Tips to Help You Target Your Content
A Wise Word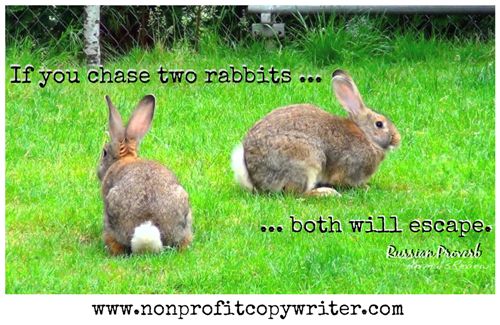 Graphic: Nonprofit Copywriter and

Check out more inspiring Quotes about Copywriting and Writing on our Pinterest board.

That's it for now.


Words matter ... use them wisely!






Kathy with Nonprofit Copywriter
Email me with your comments and questions! www.nonprofitcopywriter.com

P.S. Invite friends and colleagues to subscribe to Word Wise. Forward this issue or send them a link to Nonprofit Copywriter where they can sign up.