Write Better. Right Away.
Volume 11, Number 8: Issue #100 ... ISSN: 1933-9690

Welcome, fellow writer!

Every couple of weeks, we'll send you this newsletter packed with practical and useful writing tips to help you learn how to write better and how to write faster, no matter how much or how little writing experience you have.
---
Nonprofit Copywriter is on Pinterest. Join us!
Nonprofit Copywriter
---
FEATURE: Pre-Writing Step 3: Identify Your Target Reader Before You Write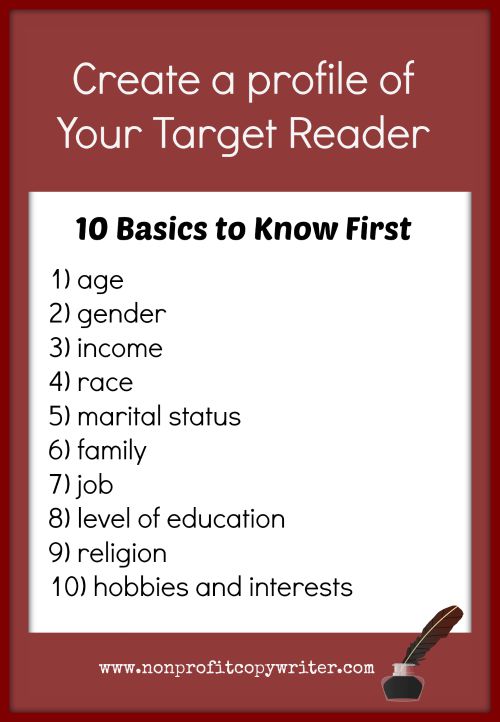 Image: Nonprofit Copywriter>
What to Write Before You Write, Part 3
Do you want to write faster, clearer, and get more projects done? Pre-writing is the key.
The first two pre-writing steps for any writing project are to identify your goal for the project and choose the channel you'll write for (because the channel determines the style you'll write in.)
Before you write, you also need to identify your reader.
Think about it: don't you talk differently with a first grader than you talk with a 35-year-old attorney or a 50-something empty nester or a teen mom?
You write differently to them, too. Good writing is packaged for the reader.
Write down specifics about your intended audience. Create a composite profile of your project's target reader by asking:
What is the reader's gender? Age? Job? Income? Marital status? Level of education? Interests?
What are her needs? What does she want? What does she care about? What hurts her? What makes her happy?
When you have a composite portrait of your target reader, you can frame your writing to that person.

Look for more simple pre-writing tips in the next issue of Word Wise.

Read more about pre-writing here. And check out more writing tips on our Writing Tips Pinterest board.
---
Easy Writing Tips About Target Audience
A Wise Word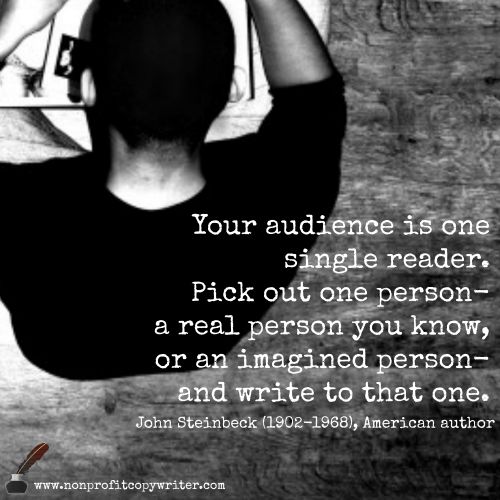 Graphic: Nonprofit Copywriter and

Check out more inspiring Quotes about Copywriting and Writing on our Pinterest board.

That's it for now.


Words matter ... use them wisely!






Kathy with Nonprofit Copywriter
Email me with your comments and questions! www.nonprofitcopywriter.com

P.S. Invite friends and colleagues to subscribe to Word Wise. Forward this issue or send them a link to Nonprofit Copywriter where they can sign up.