Write Better. Right Away.
Volume 12, Number 5: Issue #113 ... ISSN: 1933-9690

Welcome, fellow writer!

Every couple of weeks, we'll send you this newsletter packed with practical and useful writing tips to help you learn how to write better and how to write faster, no matter how much or how little writing experience you have.
---
Time to ditch your boss? 
Goodbye, desk job. Hello, profits! 
I know this special FREE report will change your life. MaryEllen Tribby has revealed her 7 easy steps in The Ultimate Success Code.

Take a look. (At no cost.)
---
Nonprofit Copywriter is on Pinterest. Join us!
Nonprofit Copywriter
---
FEATURE: 3 Kinds of Writing Projects You Need to Know How to Write
Just exactly what kinds of writing projects do you need to know how to write?
Dozens. But in the end, it all boils down to three basic types of pieces.
These three kinds of projects create a short cut list. By understanding the "big picture" kinds of writing projects, you can know where your project fits and what its goal is.
Pieces that Plan or Organize.These pieces are often used internally as a starting point other writing projects. Their main functions are to help leaders organize and plan – pieces like case statements and ministry summaries, for example. A copywriter who can effectively produce strategic planning projects has the ability to listen to a client, translate concepts into words, organize thoughts, create schedules, make an argument on paper, think strategically, and read a budget.
Pieces that Sell. These pieces present a problem the readers face, show how the product or cause is the solution to the problem, and make an offer so enticing it is difficult to refuse – pieces like letters, ads, and response devices. A cousin to sales pieces are cultivation pieces – those projects whose underlying purpose is to continue to cultivate a long-term relationship with the reader to get more sales and more partners.
Pieces that Provide Information.  Producing quality content sets you up as an expert in your field. Content pre-sells and re-sells the reader in pieces like blogs, websites, newsletters, and social media posts. By providing excellent content, you educate the reader and show him the need for your goods and services.
Once you know how the project fits into the whole, writing the piece becomes a lot easier because you can keep your goal in mind as you write.
Read more about specific kinds of writing projects in each of these three categories … and check out more tips about different kinds of writing projects on our Kinds of Writing Projects Pinterest board.
---
50 Freebies for Frugal Writers
Whether you write fiction or nonfiction, you know what a thrill it is to find some new resource that helps you get those words on the page, organize your writing projects, and make writing more enjoyable and fun. And it's even better when it's free. Here are 50 freebies altogether in one place. Take a look.

---
More Newbie Copywriting Tips
A Wise Word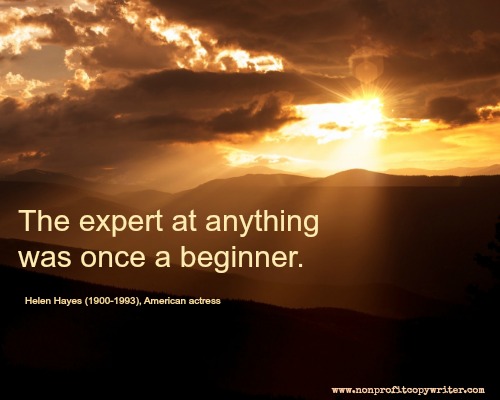 Graphic: Nonprofit Copywriter and


Check out more inspiring Quotes about Copywriting and Writing on our Pinterest board.

That's it for now.


Words matter ... use them wisely!






Kathy with Nonprofit Copywriter
Email me with your comments and questions! www.nonprofitcopywriter.com

P.S. Invite friends and colleagues to subscribe to Word Wise. Forward this issue or send them a link to Nonprofit Copywriter where they can sign up.