Write Better. Right Away.
Volume 11, Number 2 ... ISSN: 1933-9690

Welcome, Fellow Writer!

Every couple of weeks, we'll send you this newsletter packed with practical and useful writing tips to help you learn how to write better and how to write faster, no matter how much or how little writing experience you have.
---
Nonprofit Copywriter is on Pinterest. Join us!
---
FEATURE: Easy Writing Tip: Start Each Sentence with a Different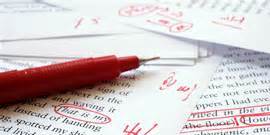 Image: Exact Editing
Part Two of Five Simple Steps for Better Writing
Repetitive writing is b-o-r-i-n-g. You don't want your readers to click off or struggle through your piece.
One way to make your writing more interesting and readable is to vary the first word in each sentence.
Instead of this:
Starting sentences with the same word or phrase is repetitive and bores readers. Starting sentences with the same word or phrase sounds amateurish, too.
Try this:
Starting sentences with the same word or phrase is repetitive and sounds amateurish. You don't want to bore your readers, do you?
As you develop your writing skills, you will start sentences with different words and phrases intuitively. Once you vary the first word of each sentence, you alter the rhythm of the piece. This quick fix has a snowball effect. Suddenly, your content keeps your reader's attention and builds interest in what you say.
What To Do
Put on your "first-word-of-the-sentence" antennae as you read through your draft.
Highlight sentences that start with the same word.
Find ways to change them.
Do the "First-Word-in-the-Sentence Sweep" enough times, and it will become one of your writer's habits.

Look for Step 3 in the next issue of Word Wise!

Read more writing basics here.

And check out more writing tips on our Writing Tips Pinterest board.
---
More Easy Word Tips for Writing Faster and Better
A Wise Word
Image: RegTex

Check out more inspiring Quotes about Copywriting and Writing on our Pinterest board.

That's it for now.


Words matter ... use them wisely!






Kathy with Nonprofit Copywriter
Email me with your comments and questions! www.nonprofitcopywriter.com

P.S. Invite friends and colleagues to subscribe to Word Wise. Forward this issue or send them a link to Nonprofit Copywriter where they can sign up.