Write Better. Right Away.
Volume 11, Number 10: Issue #101 ... ISSN: 1933-9690

Welcome, fellow writer!

Every couple of weeks, we'll send you this newsletter packed with practical and useful writing tips to help you learn how to write better and how to write faster, no matter how much or how little writing experience you have.
If You Want to Write a Book …
Will you do me a big favor? Take 10 seconds to take a quick survey. Let me know your #1 question (or couple of questions) you have about getting started writing your book.

Just click here (or the button on the right) to tell me what you want to know most. As a special thank you, I'll send you a copy of my new e-book, Write Your Book Now: A Step-By-Step Guide to Writing a Book and Getting It to Publication. It will help you get started NOW writing your book.

Thank you for your feedback!
---
Nonprofit Copywriter is on Pinterest. Join us!
Nonprofit Copywriter
---
FEATURE: Help Writing a Book, Step 1
What Problem Will Your Book Solve?
"I need book writing help!"
Writing a book can seem overwhelming. Where should you begin? What should you do first?
Here's the truth: a book is just a series of small bits of writing, strung together. To write a book, simply break down the whole into smaller parts.
Then complete each small part, one at a time.
Your first step is to ...
Identify the Problem Your Book Will Solve
A good book addresses a problem and explains a way to solve it.
Choose a problem that interests you. You'll be spending a great deal of time understanding this problem and writing about how to solve it. Make sure you are interested in it.
Choose a problem with which you have experience. It could be personal know-how or information you have acquired (or are eager to acquire during the writing process.) Experience allows you to write with the voice of authenticity and authority.
Choose a problem with a solution. Does the topic have potential to positively affect people's lives? Is it entertaining or humorous? Will the content answer questions or impart a deeper understanding about people or the world?
Choose a problem with a solution that you believe in. Your name will be on this book for a long time. Make sure your investment is well placed.
Look for more book writing help in the next issue of Word Wise.
Read more about your first step in writing a book. And check out more tips for writing a book on our Pinterest board.
---
More About Starting a Writing Project
A Wise Word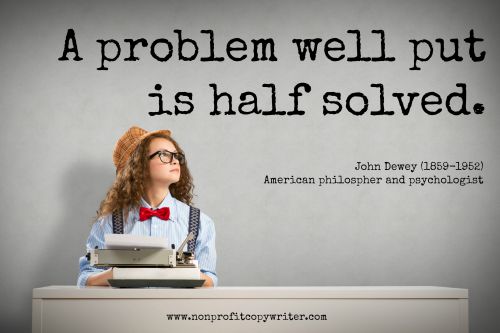 Graphic: Nonprofit Copywriter and


Check out more inspiring Quotes about Copywriting and Writing on our Pinterest board.

That's it for now.


Words matter ... use them wisely!






Kathy with Nonprofit Copywriter
Email me with your comments and questions! www.nonprofitcopywriter.com

P.S. Invite friends and colleagues to subscribe to Word Wise. Forward this issue or send them a link to Nonprofit Copywriter where they can sign up.