Volume 12, Number 14: Issue #122 ... ISSN: 1933-9690

Welcome, fellow writer!

In each issue of Word Wise, you get writing tips to use to simplify the writing process.
I'm excited about our new look, both in this newsletter and on the Word Wise website. What do YOU think? Let me know!
---
Get More Simple Writing Tips on Pinterest!
Are you on Pinterest? If so, join me at Nonprofit Copywriter for more easy writing tips.

---
FEATURE: The 4 U's – A Handy Checklist for Writing Powerful Headlines
Writing powerful headlines is an essential skill for any writer. Y
It's the headline that pulls readers in.  Which means your headline needs to capture the reader's attention. How can you check yourself to make sure your headline is doing a good job?
The 4 U's, developed by copywriting master and success coach Michael Masterson, is a quick self-check you can use when writing powerful headlines, evaluating your headlines and improve them.
Useful: how does the headline help the reader?
Write a useful headline by showing benefits. How will what follows help the reader, relieve a problem, answer a question, provide a solution? Show what's in it for him.
Urgent: how does the headline move the reader to act?
An urgent headline moves the reader to act sooner than later. You can accomplish this by providing time frame or deadline in your headline. Or reference a particular stress, pressure, or acute need that the reader feels.
Unique: how does the headline surprise the reader?
A unique headline is a surprise. It grabs the reader's attention with a shocking fact, unusual statement, special piece of information, or distinctive slant.
Ultra-Specific: how does the headline give details to the reader?
An ultra-specific headline is big on details. It can include numbers, indicate steps, identify an explicit or exclusive piece of information, or offer a specialized slant.  
Read more tips about writing powerful headlines) with the 4 U's as a self-check… and get more writing tips for headlines on our Writing Headlines Pinterest board.
---
How to Fit Learning Into Your Summer
You can learn a new skill this summer through your laptop or even your mobile device! Right now for a limited time, online classes at Udemy are on sale for 30% off, plus they're offering all kinds of free classes, too! Skim your options here.
---
More Tips for Writing Powerful Headlines
More Tips for Writing Powerful Headlines
A Wise Word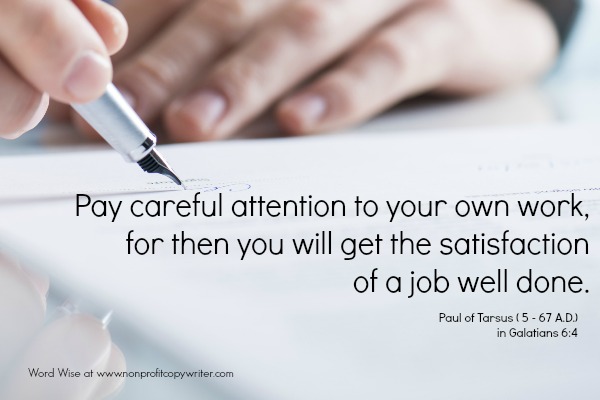 Graphic: Nonprofit Copywriter


Check out more inspiring Quotes about Copywriting and Writing on our Pinterest board.

That's it for now.


Words matter ... use them wisely!






Kathy with Nonprofit Copywriter
Email me with your comments and questions! www.nonprofitcopywriter.com

P.S. Invite friends and colleagues to subscribe to Word Wise. Forward this issue or send them a link to Nonprofit Copywriter where they can sign up.