bestselling author – and a self-publishing guru. She started self-publishing her own books in 2008 and now shares how you can do it, too, in her free book, Successful Self-Publishing
, available for free on Kindle. Take a look.

---
Nonprofit Copywriter is on Pinterest. Join us!
Nonprofit Copywriter
---
FEATURE: What's a Listicle … and How Do I Write One?
List + Article = Listicle (prounced list-ick-kuhl, like "popsicle.")
It's a catchall phrase for any article in list form.
Listicles are popular for lots of reasons: they are fun to read, easy to write, offer practical or unusual information, and are sharable – which is especially important online.
It's the structure that makes them unique: it's a numbered list. Each item on the list makes a separate pint. The number of items is announced in the headline. For example: 7 Tips for Summer-Weary Moms .
But that same structure that makes the format unique can be its downfall. For writers, it can be tempting to use a numbered list as a crutch ... and your list-article is tedious or hackneyed.
It needn't be so.
The most urgent writing tip for a listicle is this: write a fun headline. You need to find a special twist or unique approach for your content and then indicate that slant in the headline. At all costs avoid writing a trite or predictable headline, like this one:
5 Tips for Writing Better Articles
Snore. Isn't this more interesting?
Avoid These 5 Article-Writing Pitfalls at Your Peril
Or what about this one?
5 Boredom-Busting Tips for Overhauling Your Articles
Once you have a headline with a twist … (read the full article here).
Check out other article writing helps on our Article Writing Pinterest board.
---
50 Freebies for Frugal Writers
Whether you write fiction or nonfiction, you know what a thrill it is to find some new resource that helps you get those words on the page, organize your writing projects, and make writing more enjoyable and fun. And it's even better when it's free. Here are 50 freebies altogether in one place. Take a look.

---
More Tips for Writing Articles
A Wise Word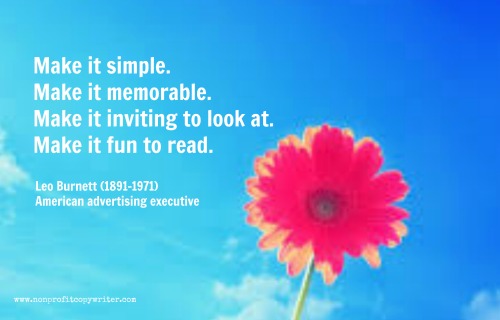 Graphic: Nonprofit Copywriter and


Check out more inspiring Quotes about Copywriting and Writing on our Pinterest board.

That's it for now.


Words matter ... use them wisely!






Kathy with Nonprofit Copywriter
Email me with your comments and questions! www.nonprofitcopywriter.com

P.S. Invite friends and colleagues to subscribe to Word Wise. Forward this issue or send them a link to Nonprofit Copywriter where they can sign up.