Write Better. Right Away.
Volume 12, Number 1: Issue #109 ... ISSN: 1933-9690

Welcome, fellow writer!

Every couple of weeks, we'll send you this newsletter packed with practical and useful writing tips to help you learn how to write better and how to write faster, no matter how much or how little writing experience you have.
---
A New Year's Gift to Word Wise Readers: 4 Bob Bly Reports for FREE
My friend and colleague Bob Bly is one of the most experienced – and successful – copywriters I know. In fact, McGraw-Hill calls Bob Bly "America's top copywriter."

I twisted Bob's arm – and he has agreed to give away to my readers 4 of his Special Reports absolutely FREE! Each report has a list price of $29 and has about 50 pages of content (including selling information online … 27 email marketing tips… and some of Bob's special copywriting secrets). The total value of this package of reports is $116. Word Wise subscribers can get 4 of Bob's reports FREE when you click on this link or on the image below.

---
Nonprofit Copywriter is on Pinterest. Join us!
Nonprofit Copywriter
---
FEATURE: Self-Editing Made Simple
Two areas you can easily self-monitor
Entire books and courses are taught about self-editing your manuscript, but there are two areas you can self-monitor quite easily. Some writers call these the "Twin Pillars of Editing."
Pillar #1: Copyediting
Here is where you proofread the mechanics in your piece. Your goal is to make your writing correct, easy to read, and clean. Check for grammar mistakes, spelling errors, typos, missing words, repetition, awkward sentences, passive voice, subject-verb agreement, misplaced modifiers, homonyms, verb tenses, and split infinitives.
Pillar #2: Content
Here is where you address how you present your subject matter. Is your material interesting, original, and written in an engaging way so that readers get something out of it? Are you communicating ideas clearly, with continuity, logically, and with sound reasoning? What about your documentation – have you fact checked, quoted accurately, and cited your sources?
Over time, you will develop your own approach to the Twin Pillars of Editing.
In the meantime, make sure you self-edit these two areas consistently. Then you will be well on your way to being a strong self-editor.
Get more help with self-editing … and check out more editing tips on our Editing Pinterest board.
---
More Writing Tips for Self-Editing
A Wise Word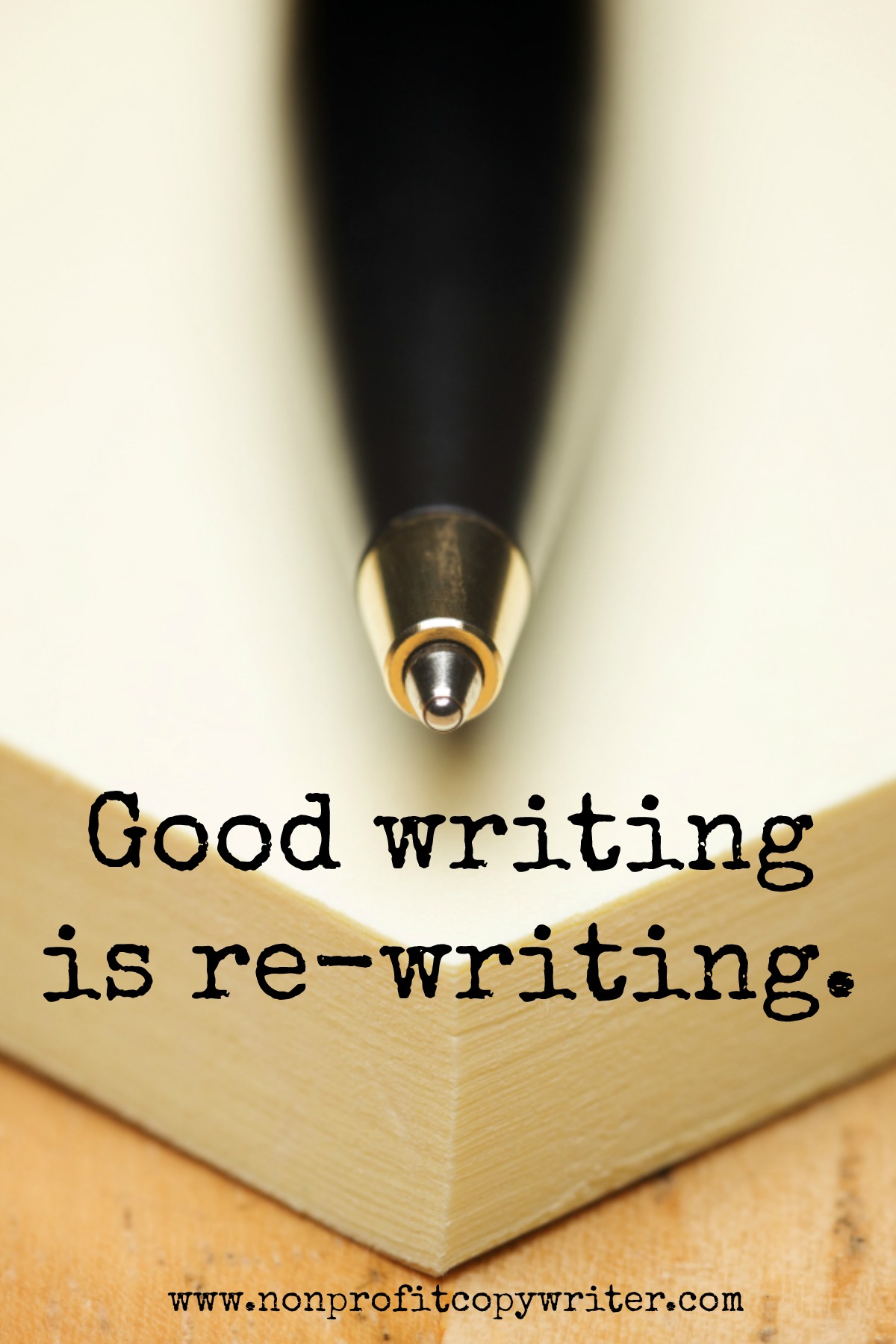 Graphic: Nonprofit Copywriter and


Check out more inspiring Quotes about Copywriting and Writing on our Pinterest board.

That's it for now.


Words matter ... use them wisely!






Kathy with Nonprofit Copywriter
Email me with your comments and questions! www.nonprofitcopywriter.com

P.S. Invite friends and colleagues to subscribe to Word Wise. Forward this issue or send them a link to Nonprofit Copywriter where they can sign up.