Word Wise Newsletter
Helping You and Your Organization Get Powerful Results With Words

Volume 9, Number 1 ... ISSN: 1933-9690

Dear fellow writers and strategists,
Welcome back to Word Wise! Once or twice a month, we'll send you this newsletter packed with practical and useful information you can use in copywriting for your small business or nonprofit – whether you're a marketing professional, nonprofit leader, or copywriting newbie.
NEW! Nonprofit Copywriter Blog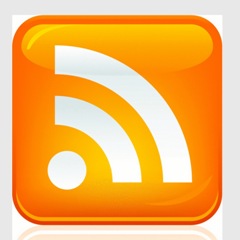 Writing for your nonprofit or small business shouldn't be a chore. The Nonprofit Copywriter Blog is the place to come to make it simple. Check out the blog for easy, practical writing tips and trends.

You can even subscribe to your RSS feed and get our regular updates all in one place!

Learn more about getting an RSS feed when you go to our blog page, see the "Subscribe to this Page" box on the right, and click on the question mark in the upper left corner. Check it out!
Feature: 3 Nonprofit Writing Projects to Get Done in January
You'd think with the year-end giving season behind you that come January, you could step back from writing for a few weeks.

Not.

Make sure you take care of these 3 writing projects before January 31.
Year-end contribution summary letters. Tax season is here. Gotta keep that 501 (c) (3) status. But even more importantly, you want your donors to know how much you appreciated their support last year. Tell them in a year-end summary letter.
Annual membership drive. The beginning of a new calendar year is the perfect time to invite current donors to become systematic partners, either with a "get-the-year-started" gift or through a monthly, automatic, electronic giving. Make sure you know what that invitation must have.
One-year strategic plan. Have a map for the coming year which answers 3 questions: Where are we now? Where are we going? How will we get there? (Read what to include in this year's strategic plan.)
You still have time left in January to stay on track with your writing projects in 2013. Press on!
Fun (and Helpful) Nonprofit Tips and Trends
2013 Nonprofit Marketing Trends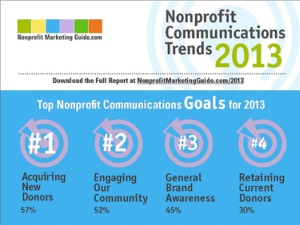 Image: Nonprofit Marketing Guide
The #1 goal among nonprofits is acquiring new donors
48% cite their biggest communications challenge is lack of time to produce quality content
Only 3 in 10 have a clear, written communications plan for 2013
75% send email campaigns at least monthly
More on Strategic Planning for Nonprofits ...
Finally … A Wise Word
"Nobody reads ads. People read what interests them. Sometimes it's an ad."

Howard Gossage (1917-1969)

American advertising innovator


That's it for now. See you next time


Until then ... happy writing!






Kathy with Nonprofit Copywriter
Email me with your comments and questions! www.nonprofitcopywriter.com

P.S. Invite friends and colleagues to subscribe to Word Wise. Forward this issue or send them a link to Nonprofit Copywriter where they can sign up.