Write Better. Right Away.
Volume 11, Number 14: Issue #106 ... ISSN: 1933-9690

Welcome, fellow writer!

Every couple of weeks, we'll send you this newsletter packed with practical and useful writing tips to help you learn how to write better and how to write faster, no matter how much or how little writing experience you have.
---
Black Friday Blowout Sale: Online Writing Courses for $10
Browse all kinds of online writing courses you can take from home at your convenience, from How to Start Freelance Writing to How to Write, Polish, and Publish Your First Novel to Make Money Writing. Take advantage of the Black Friday Blowout Sale for Word Wise readers going on now for a limited time. Check out the deals.


---
Nonprofit Copywriter is on Pinterest. Join us!
Nonprofit Copywriter
---
FEATURE: Which Publishing Platform Should You Choose and Use?
As you move forward with writing a book, you'll make an important decision: which publishing platform you'll use to publish your book.
It used to be that in order to become an author, you had one route to publication: solicit a publishing house and get a book contract.
Now you have alternatives. Here is a brief snapshot of your options so you can make the best decision for your project.
Traditional Publishing
These books are edited, produced, and distributed by a publishing house. The author completes a book (fiction) or a book proposal (nonfiction book outline and its first three chapters), submits it to agents or editors, signs a contract, and works with the publishing house through edits, production, and launch.
Self Publishing: Subsidy Publishing
These books are published in a run at the expense of the author. Quality, services, and costs range widely among subsidy publishing houses. Some simply produce an initial print run from your uploaded file. Other companies offer a range of design, editing, distribution, and marketing services for both print and digital book production.
Self Publishing: Print-On-Demand (POD)
These books are printed and shipped when they are ordered by the consumer, hence the "on demand" moniker. As an author, you don't need to run an entire printing at once, although you can order a short run for yourself. A number of companies provide print-on-demand services, including editing, design, and distribution services: CreateSpace, Ingram Spark, LightningSource, Blurb.
Self Publishing: E-Books
These books are formatted for a tablet, Kindle, iPad, cell phone, or other electronic device. You can do-it-yourself self-publish e-books using software like Scrivener or publish in retail e-book stores through Kindle (KDP), Kobo, NookPress, iTunes Connect, Smashwords, BookBaby, or Draft 2Digital. If you're not a do-it-yourselfer, you can pay a fee to CreateSpace, BookBaby, Smashwords, Ebook Architects, Bibliocrunch, or other full services e-book publishing company to format your manuscript into an electronic format.
Get more help choosing a publishing platform so you can save time writing your book.

And check out more tips for writing a book on our Pinterest board.

Stay tuned for more book writing help in the next issue of Word Wise.
---
More Tips for Getting Started Writing a Book
A Wise Word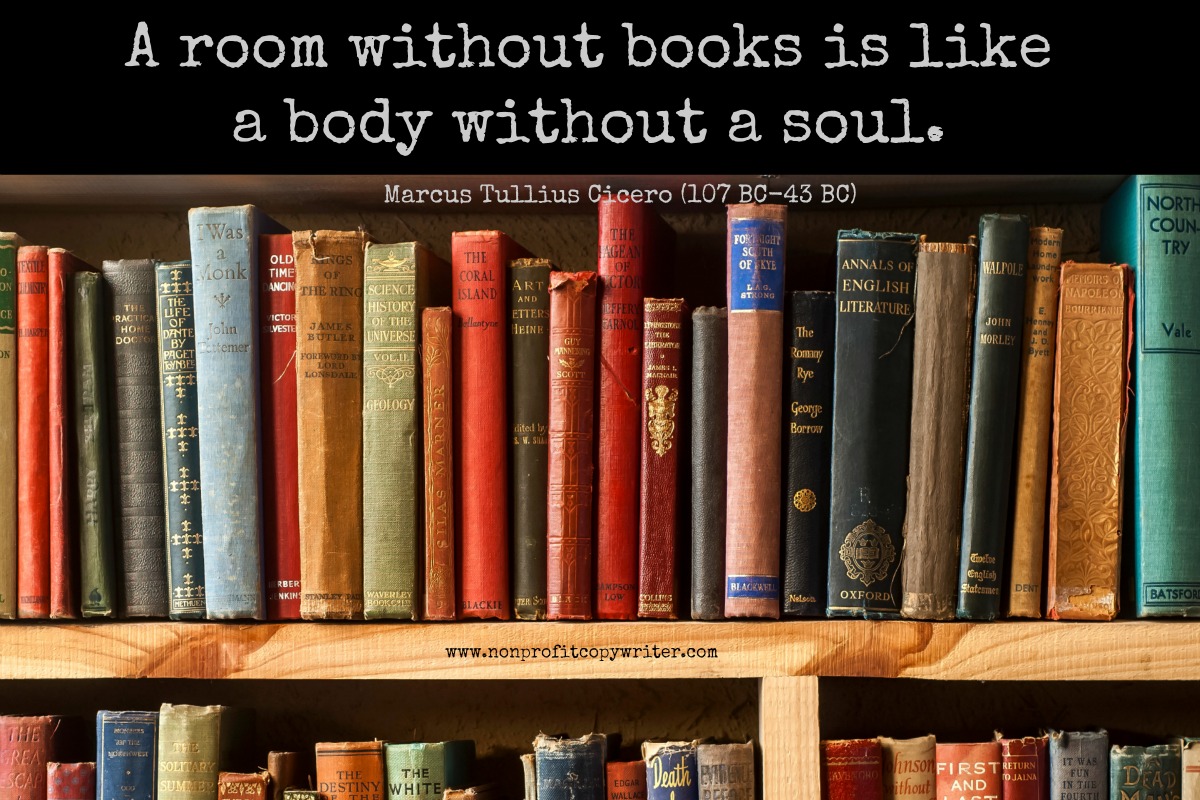 Graphic: Nonprofit Copywriter and


Check out more inspiring Quotes about Copywriting and Writing on our Pinterest board.

That's it for now.


Words matter ... use them wisely!






Kathy with Nonprofit Copywriter
Email me with your comments and questions! www.nonprofitcopywriter.com

P.S. Invite friends and colleagues to subscribe to Word Wise. Forward this issue or send them a link to Nonprofit Copywriter where they can sign up.