Write Better. Right Away.
Volume 11, Number 12: Issue #104 ... ISSN: 1933-9690

Welcome, fellow writer!

Every couple of weeks, we'll send you this newsletter packed with practical and useful writing tips to help you learn how to write better and how to write faster, no matter how much or how little writing experience you have.
---
Take an Online Writing Course
Browse all kinds of online writing courses you can take from home from Udemy, the leader in online courses -- for instance How to Start Freelance Writing ... How to Write, Polish, and Publish Your First Novel ... How to Make Money Writing. Take advantage of the special sale going on now for a limited time. Use the special code below just for Word Wise readers!
---
Nonprofit Copywriter is on Pinterest. Join us!
Nonprofit Copywriter
---
FEATURE: Help Writing a Book, Step 3
Find Your Book's Niche
A book seems like a huge project, but in reality it is just a series of small bits of writing, strung together. To write a book, simply break down the whole into smaller parts. Then complete each small part, one at a time.
You identify the problem your book will solve and who your readers will be. After that …
Identify Your Book's Unique Niche
What makes your book unique? This step takes some detective work. Tens of thousands of books flood the marketplace, both in print and online. You need to identify what makes your book different from others.
This is an important step to complete during the early stages of writing your book. If someone has already written a book similar to your own, then you need to find a special slant, niche, or approach so yours stands out and solves the problem in a different way or meets an unmet need in the marketplace.
Do this by studying other books about your topic available on Amazon and in Books In Print. Take notes about books that may be similar to your book topic idea. Use this checklist:
Publication date. If there are numerous books about your topic published recently, be encouraged. That means that there is a demand for information about that subject matter.
Content. How do the books on the market address your topic in a way that is different from your approach?
Genre. Perhaps the books that address your topic are in a different genre than your intended book – whether as a memoir, a novel, or a how-to.
Audience. What audience do published books target? Does yours target other readers?
Format. Study structure to see how information is organized and presented to determine how you can use a different approach from available books.
As you study each book and takes notes, you are working to identify a need in the marketplace for your book, whether it is in content, genre, readership, or format.

Get more help identifying your book's niche so you can fill a need in the marketplace. And check out more tips for writing a book on our Pinterest board.

Stay tuned for more book writing help in the next issue of Word Wise.
---
More About Writing for Your Niche
A Wise Word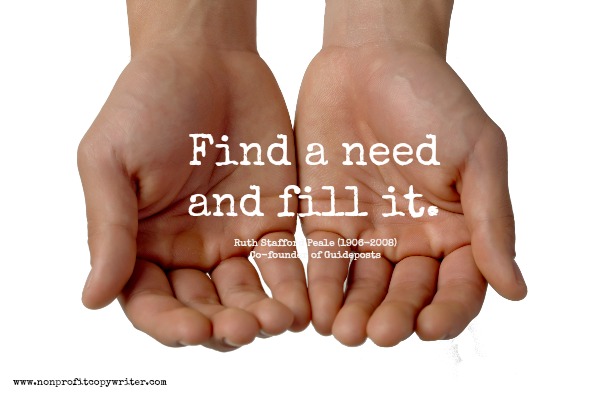 Graphic: Nonprofit Copywriter


Check out more inspiring Quotes about Copywriting and Writing on our Pinterest board.

That's it for now.


Words matter ... use them wisely!






Kathy with Nonprofit Copywriter
Email me with your comments and questions! www.nonprofitcopywriter.com

P.S. Invite friends and colleagues to subscribe to Word Wise. Forward this issue or send them a link to Nonprofit Copywriter where they can sign up.