Write Better. Right Away.
Volume 11, Number 11: Issue #103 ... ISSN: 1933-9690

Welcome, fellow writer!

Every couple of weeks, we'll send you this newsletter packed with practical and useful writing tips to help you learn how to write better and how to write faster, no matter how much or how little writing experience you have.
---
Take an Online Writing Course from Udemy
Browse all kinds of online writing courses you can take from home from Udemy, the leader in online courses -- for instance How to Start Freelance Writing ... How to Write, Polish, and Publish Your First Novel ... How to Make Money Writing. Take advantage of the special sale going on now for a limited time. Use the special code below just for Word Wise readers!
---
Nonprofit Copywriter is on Pinterest. Join us!
Nonprofit Copywriter
---
FEATURE: Help Writing a Book, Step 2
Who Are Your Readers?
A book seems like a huge project, but in reality it is just a series of small bits of writing, strung together. To write a book, simply break down the whole into smaller parts. Then complete each small part, one at a time.
The first step (which you read about in the last issue) is identifying the problem your book will solve. After that …
Identify Your Readers
Why do you need to do this? Because you speak differently to a 10-year-old girl than you do when you talk with a 40-something businessman or when you're chatting with a recent college grad. Just like a conversation, a successful book speaks to its primary audience in a unique way. You want your book to connect with your readers and be relevant to them.
The easiest way to identify your readers clearly in your mind is to create a reader profile.
How to Create a Reader Profile
Picture your ideal reader
Think of someone you know who fits that image
List details about your reader: age, gender, job, world view, for instance
Record as many details as possible
Get more help identifying your readers so you can write your book directly to him. And check out more tips for writing a book on our Pinterest board.
Stay tuned for more book writing help in the next issue of Word Wise.
---
More About Writing to Your Reader
A Wise Word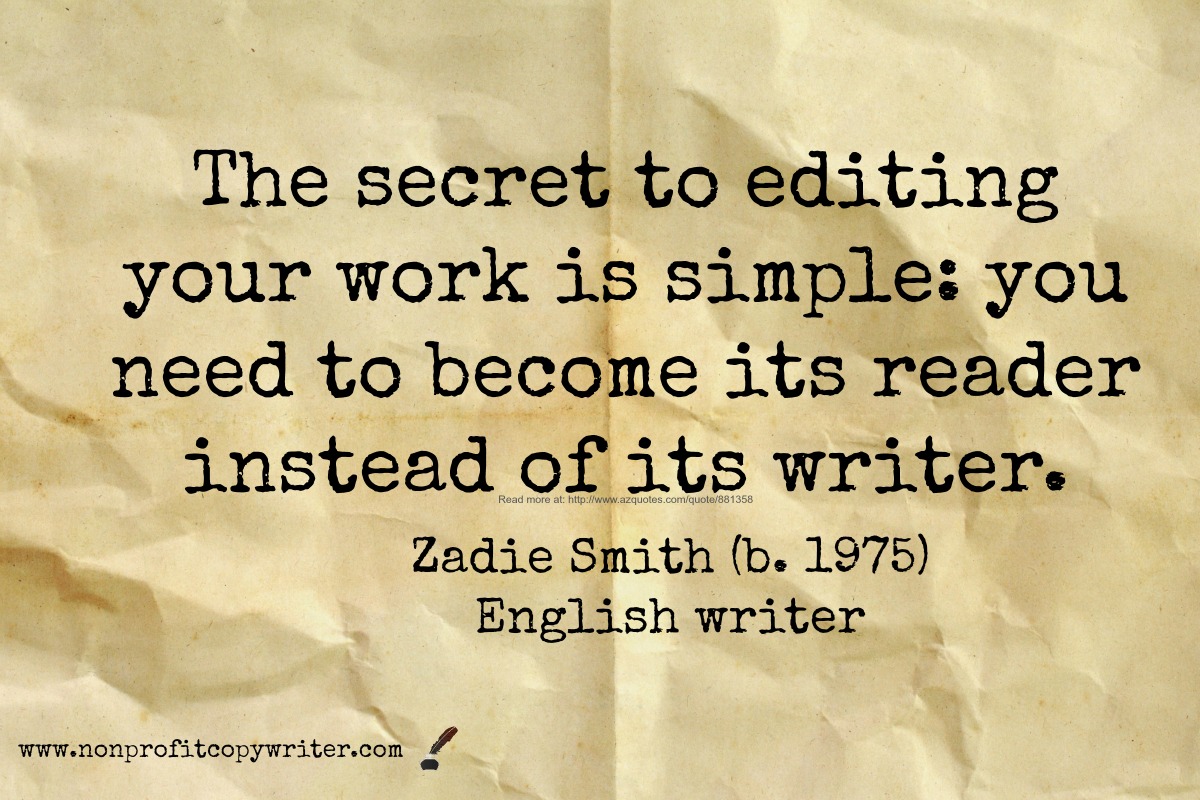 Graphic: Nonprofit Copywriter and


Check out more inspiring Quotes about Copywriting and Writing on our Pinterest board.

That's it for now.


Words matter ... use them wisely!






Kathy with Nonprofit Copywriter
Email me with your comments and questions! www.nonprofitcopywriter.com

P.S. Invite friends and colleagues to subscribe to Word Wise. Forward this issue or send them a link to Nonprofit Copywriter where they can sign up.