Writing Tips for Busy Leaders
Volume 12, Number 11: Issue #119 ... ISSN: 1933-9690

Welcome, fellow writer!

Every couple of weeks, we'll send you this newsletter packed with practical and useful writing tips to help you learn how to write better and how to write faster, no matter how much or how little writing experience you have.
---
Find Best-Selling Books about Writing for 99 Cents (or Less)
See the best-selling and most popular books and e-books about writing a novel, writing an e-book, writing articles – and more. Take a look.

---
Nonprofit Copywriter is on Pinterest. Join us!
Nonprofit Copywriter
---
FEATURE: 5 Types of Blog Posts to Write and How Each Is Different
Search for "types of blog posts" and you'll get overwhelmed.
You'll see articles that list large numbers of types of blog posts titled, "72 Best Kinds of Blog Posts" or "54 Kinds of Blog Posts That Get the Most Traffic."
But here is a simple writing tip: all the different kinds of blog posts can be distilled down to just a few types.
Relieved? Good. Consider what you want to write about in your next post. Then check out this list of common blog post types to choose one to fit your topic.
The How To Post: a How To post, also called an Instructional post, describes (duh) how to do something. An instructional blog post, such a how-to, a tutorial, a video, a guide, or link to a podcast or e-book, can explain step-by-step directions for solving a problem.
The List Post: a List Post is a collection of different items related to each other in a particular way. They are among of the most popular posts on blogs and may be called round ups, checklists, resource lists, curated content, research, and listicles.
The Pictorial Post is image-heavy. You can include a bit of text to explain the image, but the main focus in Pictorial posts are visuals, such as slide decks, infographics, quotes, or memes.
The News Post draws upon two types of news: current events and seasonal topics. You can report it to your readers or comment on it as the news relates to your business or service.
The Personal post is a reflection, opinion piece, rant, a story, or an anecdote from your own experience. A Personal post can also be about someone else (a case study, interview, or profile) or can offer content about an object (a product review or editorial about an event or trend.)
Read more about tips for choosing a blog post type … and check out other blog writing tips on our Writing a Blog Pinterest board.
---
Tools To Help You Write Better
---
More Tips for Writing Blogs & Social Media
A Wise Word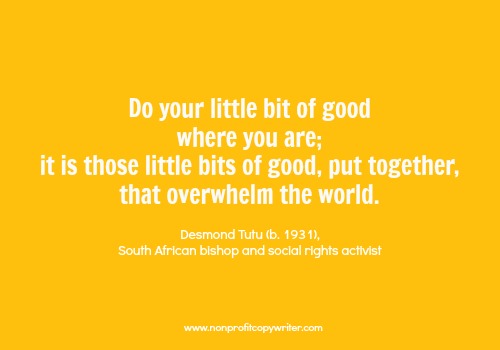 Graphic: Nonprofit Copywriter


Check out more inspiring Quotes about Copywriting and Writing on our Pinterest board.

That's it for now.


Words matter ... use them wisely!






Kathy with Nonprofit Copywriter
Email me with your comments and questions! www.nonprofitcopywriter.com

P.S. Invite friends and colleagues to subscribe to Word Wise. Forward this issue or send them a link to Nonprofit Copywriter where they can sign up.