Writing Tips for Busy Leaders
Volume 12, Number 9: Issue #117 ... ISSN: 1933-9690

Welcome, fellow writer!

Every couple of weeks, we'll send you this newsletter packed with practical and useful writing tips to help you learn how to write better and how to write faster, no matter how much or how little writing experience you have.
---
50 Freebies for Frugal Writers
Whether you write fiction or nonfiction, you know what a thrill it is to find some new resource that helps you get those words on the page, organize your writing projects, and make writing more enjoyable and fun. And it's even better when it's free.

---
Nonprofit Copywriter is on Pinterest. Join us!
Nonprofit Copywriter
---
FEATURE: Writing Tweets Simplified: How to Write the Most-Followed Twitter Posts
Tweets are 140-character posts on Twitter, a social networking micro-blogging service.
Quality tweets entice users to follow you. As followers scroll through their Twitter feeds, they look for posts that grab their attention and offer a type of reward – useful information, unique information, or urgent information. You build good will and get favorites and retweets when you post practical, insightful, interesting, or helpful content.
That's why quality Twitter posts are a lot like headlines.
You can write all types of Twitter posts, but there are at least three formats that are among the most-read, most-followed, and most-retweeted.
Benefit Headlines: like headlines for articles, titles on web pages, subject lines for emails, and captions for images, this kind of tweet centers on helping the reader. It provides a useful piece of information, an enticing offer, or a quick how-to. How does your post benefit the reader?  
Question Headlines: this kind of post raises the follower's curiosity. It works fast to make her think and want to know an answer. She will click through for more information and an answer to the question. Questions also spark dialogue among your followers – another preferred response that build interaction on Twitter.
Fact Headlines: Unusual data, statistics, breaking news, trends – all of these appeal to Twitter readers. Find ways to give followers the best, the worst, the most, the biggest, the strangest.
Read more about writing these 3 types of posts for Twitter … and check out other Twitter writing helps on our Writing for Twitter Pinterest board.
---
More Respected Writing Resources
---
More Writing Tips for Social Media
A Wise Word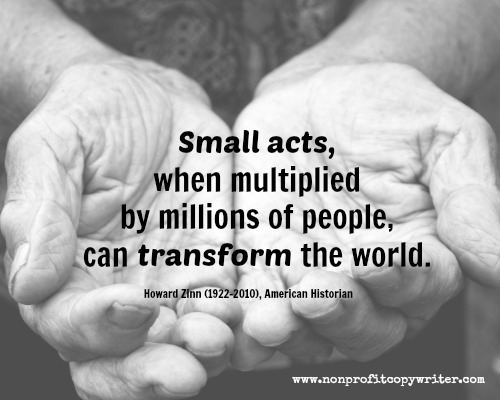 Graphic: Nonprofit Copywriter and


Check out more inspiring Quotes about Copywriting and Writing on our Pinterest board.

That's it for now.


Words matter ... use them wisely!






Kathy with Nonprofit Copywriter
Email me with your comments and questions! www.nonprofitcopywriter.com

P.S. Invite friends and colleagues to subscribe to Word Wise. Forward this issue or send them a link to Nonprofit Copywriter where they can sign up.