Writing Tips for Leaders and Faith-Based Writers
Volume 12, Number 7: Issue #115 ... ISSN: 1933-9690

Welcome, fellow writer!

Every couple of weeks, we'll send you this newsletter packed with practical and useful writing tips to help you learn how to write better and how to write faster, no matter how much or how little writing experience you have.
---
Special Offer for Word Wise Readers!
The best resources, information, tips, and inspiration for all writers – Writer's Digest offers 400+ books, downloads, magazines and more to inspire, motivate and keep you writing. Click over to check out Writer's Digest Workshops – and get 10% Off at Writers Digest Shop. Use coupon code WDAFF10 during checkout
(and get free shipping if your order is $25 more more, too!)

---
Nonprofit Copywriter is on Pinterest. Join us!
Nonprofit Copywriter
---
FEATURE: How to Write a Good Cover Letter – a Step-By-Step Writing Guide
Writing a good cover letter isn't as hard as it seems.
But just because writing a cover letter is a simple, you have to resist the temptation to be careless or even sloppy with it. Your cover letter is a communication with a prospective employer. It is a task in which first impressions count … big time.
Follow these easy writing tips for each step to help you write a good cover letter.
Heading. Insert your contact information, the date, and the employer's name, title, and contact information
Salutation. Address the letter to a specific individual.
Opening paragraph. Introduce yourself to the prospective employer.
Body (1-3 paragraphs). Connect your strengths to the prospective employer's needs. But be wise with your words. At this writing, 70% online job applications are processed using Applicant Tracking Systems, which scan cover letters and resumes for position-specific key phrases and keywords to move applicants to the next stage in the recruitment process. The keywords you choose are important. Use language or keywords from the employer's job posting or website to show you've done your homework.
Closing paragraph. Clearly state the next step, indicate what enclosures you've included, and say thank you.
Signature. Sign off respectfully.
Get more details for each step in the full writing guide for writing a good cover letter … and check out more tips for writing cover letters on our Writing Letters Pinterest board.
---
50 Freebies for Frugal Writers
Whether you write fiction or nonfiction, you know what a thrill it is to find some new resource that helps you get those words on the page, organize your writing projects, and make writing more enjoyable and fun. And it's even better when it's free. Here are 50 freebies altogether in one place. Take a look.

---
More Tips for Writing Good Cover Letters
A Wise Word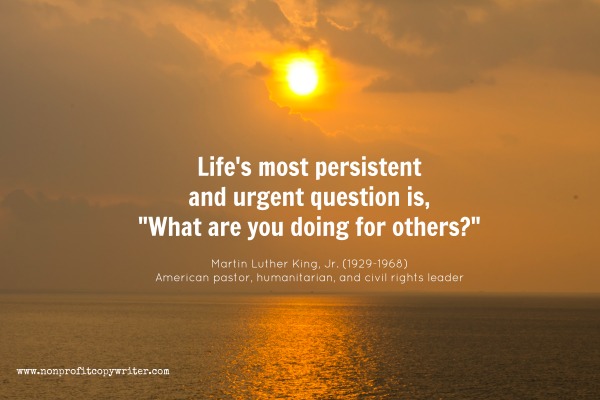 Graphic: Nonprofit Copywriter and


Check out more inspiring Quotes about Copywriting and Writing on our Pinterest board.

That's it for now.


Words matter ... use them wisely!






Kathy with Nonprofit Copywriter
Email me with your comments and questions! www.nonprofitcopywriter.com

P.S. Invite friends and colleagues to subscribe to Word Wise. Forward this issue or send them a link to Nonprofit Copywriter where they can sign up.