Write Better. Right Away.
Volume 12, Number 4: Issue #112 ... ISSN: 1933-9690

Welcome, fellow writer!

Every couple of weeks, we'll send you this newsletter packed with practical and useful writing tips to help you learn how to write better and how to write faster, no matter how much or how little writing experience you have.
---
50 Freebies for Frugal Writers
Whether you write fiction or nonfiction, you know what a thrill it is to find some new resource that helps you get those words on the page, organize your writing projects, and make writing more enjoyable and fun. And it's even better when it's free. Here are 50 freebies altogether in one place. Take a look.

---
Nonprofit Copywriter is on Pinterest. Join us!
Nonprofit Copywriter
---
FEATURE: Simple Writing Tip – How to Figure Out Benefits QUICKLY
"Write about benefits, not features." You hear this persuasive writing tip all the time. But what does it mean?
Try a different approach: ask a simple question. Ask "Why?"
Then answer it with "So that …" to uncover benefits.
For instance, imagine you're writing a social media post to recruit volunteers for an upcoming food drive. Ask … "Why should you volunteer for the food drive on Saturday morning?" 
So that fifty hungry families in your town will have enough to eat in January.
So that you spend just a morning (or even 30 minutes) helping people without investing your whole day.
So that you can get to know others in your neighborhood.
Now you've got a load of benefits you can write about. From one question and answer.

Read more about this simple way to uncover benefits quickly in order to write persuasively… and check out more tips on our Writing Persausively Pinterest board.
---
More Persuasive Writing Tips
A Wise Word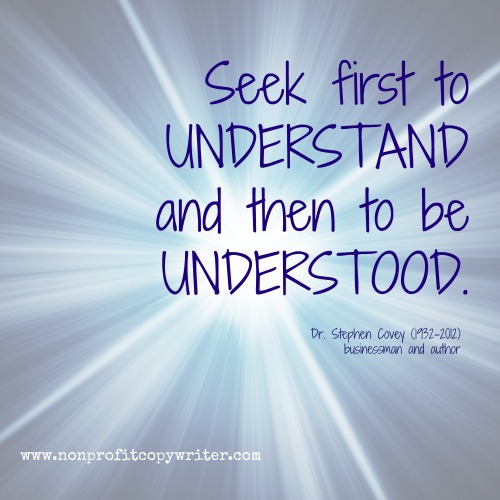 Graphic: Nonprofit Copywriter and


Check out more inspiring Quotes about Copywriting and Writing on our Pinterest board.

That's it for now.


Words matter ... use them wisely!






Kathy with Nonprofit Copywriter
Email me with your comments and questions! www.nonprofitcopywriter.com

P.S. Invite friends and colleagues to subscribe to Word Wise. Forward this issue or send them a link to Nonprofit Copywriter where they can sign up.