Write Better. Right Away.
Volume 12, Number 3: Issue #111 ... ISSN: 1933-9690

Welcome, fellow writer!

Every couple of weeks, we'll send you this newsletter packed with practical and useful writing tips to help you learn how to write better and how to write faster, no matter how much or how little writing experience you have.
---
FREE: 4 Tutorials from America's Top Copywriter
My friend and colleague Bob Bly is one of the most experienced – and successful – copywriters I know. In fact, McGraw-Hill calls Bob Bly "America's top copywriter."

I twisted Bob's arm – and he has agreed to give away to my readers 4 of his Special Reports absolutely FREE! Each report has a list price of $29 and has about 50 pages of content (including some of Bob's special copywriting secrets). The total value of this package of reports is $116. Word Wise subscribers can get 4 of Bob's reports FREE when you click on this link or on the image below.

---
Nonprofit Copywriter is on Pinterest. Join us!
Nonprofit Copywriter
---
FEATURE: 3 Simple Tips for Writing Better Web Pages
Think about how you read web pages. You're usually looking for information, right?

Take this page, for instance. You've been promised three tips. Right about now, you're scrolling down to skim for those three points. If they intrigue you, you'll read more. 

A good web writer considers how to help her reader get what she came for when she comes to a website.
Place Important Information First


Also known as inverted pyramid writing, this approach is used by writers and journalists in traditional media. Translation to writing web pages: summarize your page's content somewhere in the first 100 words – preferably in the first 50 words. Do this by using keywords.

Use White Space


Web readers skim. They don't read word for word. Forget what you learned in English class about presenting ideas in 3-sentence paragraphs.  Eliminate extra words and jargon. Write short sentences and paragraphs. Use bullet points.

Include Internal Links.


Internal links (that is, links to other pages on your website) allow your reader to find related content on your site. Links also help search engines to crawl your site – a good thing to gain you more traffic.
Get more details about each of these 3 simple tips for writing better web pages … and check out more tips on our Writing Web Copy Pinterest board.
---
More Writing Tips for Better Web Pages
A Wise Word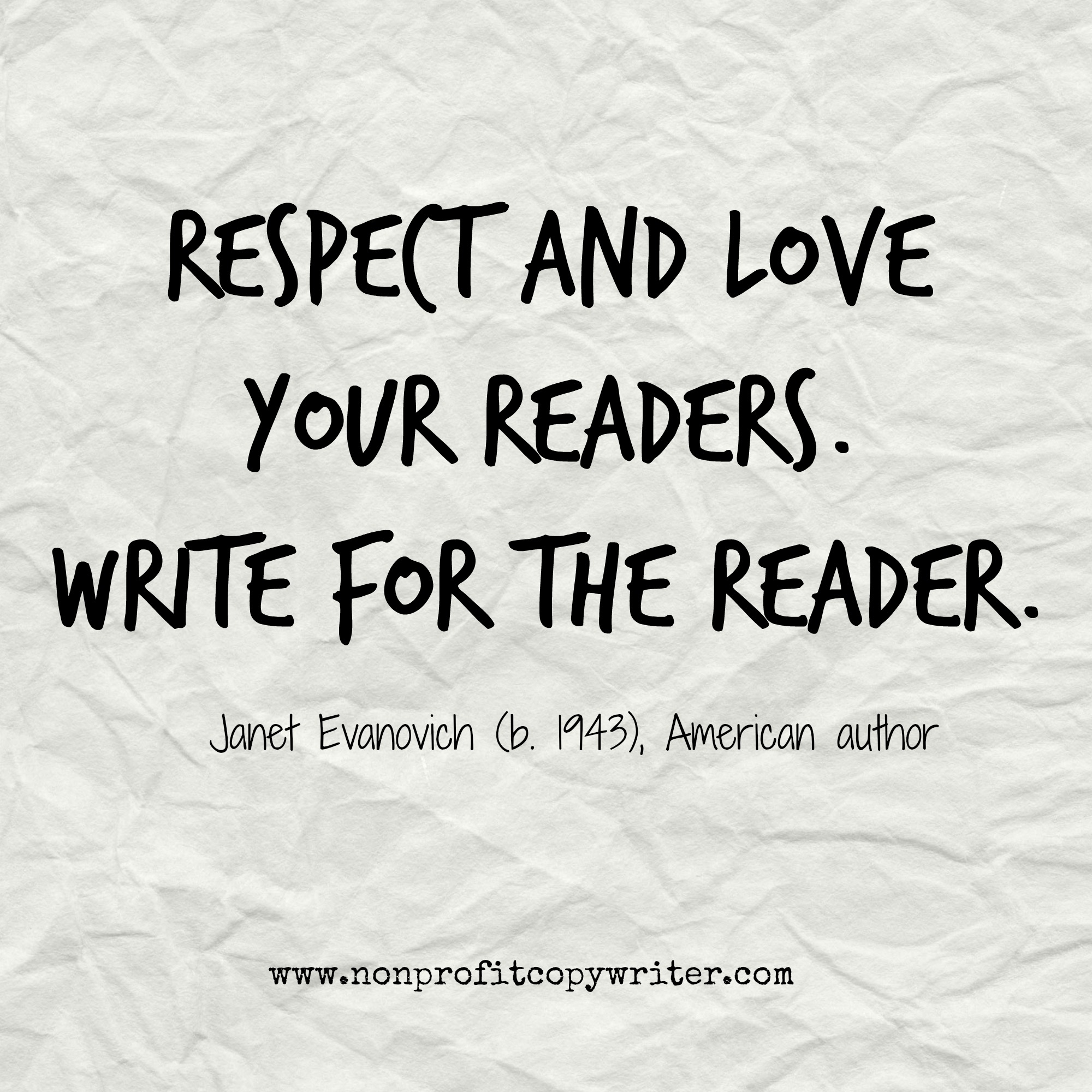 Graphic: Nonprofit Copywriter and


Check out more inspiring Quotes about Copywriting and Writing on our Pinterest board.

That's it for now.


Words matter ... use them wisely!






Kathy with Nonprofit Copywriter
Email me with your comments and questions! www.nonprofitcopywriter.com

P.S. Invite friends and colleagues to subscribe to Word Wise. Forward this issue or send them a link to Nonprofit Copywriter where they can sign up.