Writing Tips for Busy Leaders
Volume 12, Number 10: Issue #118 ... ISSN: 1933-9690

Welcome, fellow writer!

Every couple of weeks, we'll send you this newsletter packed with practical and useful writing tips to help you learn how to write better and how to write faster, no matter how much or how little writing experience you have.
---
It's That Time of Year Again!
School's out (almost) for summer! Check out these 6 Classy Teacher Gift Ideas to find just the right card or gift to let that extra-special teacher know how much they are appreciated. Use this special link or click on the banner to get more ideas. Be sure to insert the checkout code (25SAVE) to save $25 on your purchase at Dayspring.

---
Nonprofit Copywriter is on Pinterest. Join us!
Nonprofit Copywriter
---
FEATURE: How to Write a FAQs Page
FAQs – the acronym for Frequently Asked Questions – are a list of questions and corresponding answers that address basic issues about a topic, your product, service, website, or organization. This is an opportunity for you to give your reader a quick synopsis of what you do in a way he can understand easily.
Write helpful FAQs using these writing tips.
Q. What kinds of questions should I include on my FAQs page?
A. Include two kinds of questions.
Basic information that you want readers to know.
Questions do you get most often from readers. What confuses them? What requests do they make? What do they need to understand better?
Q. What kind of structure should I use as I write questions and answers?
A. List your question, followed by a quick summary answer, followed by a deeper explanation and instructions if necessary. Remember – your goal is to answer your reader's questions, not confuse her!

Q. How many questions should I include in my FAQs list?
A. Write 6-10 questions and answers per web page. If you have more questions to answer than that, organize them into two or more topics and write multiple FAQs pages.


Read more about writing FAQs … and check out other writing tips on our Writing Websites Pinterest board.
---
Tools To Help You Write Better
---
More Tips for Writing Web Pages
A Wise Word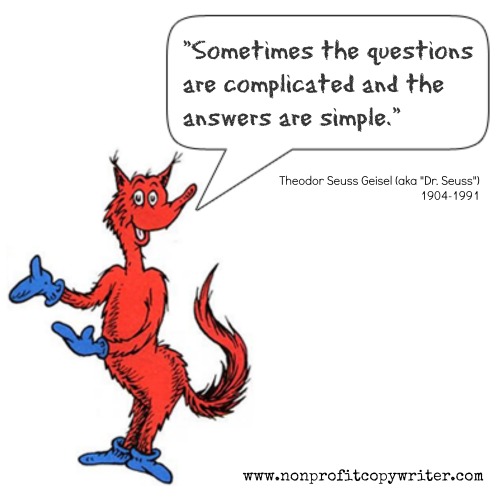 Graphic: Nonprofit Copywriter and


Check out more inspiring Quotes about Copywriting and Writing on our Pinterest board.

That's it for now.


Words matter ... use them wisely!






Kathy with Nonprofit Copywriter
Email me with your comments and questions! www.nonprofitcopywriter.com

P.S. Invite friends and colleagues to subscribe to Word Wise. Forward this issue or send them a link to Nonprofit Copywriter where they can sign up.